Best Celebrity Poker Players 2023
Date:2022-12-05 Category: Games
Best Celebrity Poker Players
Poker is a game for everyone. The game was introduced to the American card game culture through kitchen tables! This is why you can play poker everywhere as long as you have a French deck of 52 cards and some chips. Poker tournaments, like WSOP, attract thousands of poker players who want to win big money and a title. Poker tables and tournaments attract everyone, including actors, athletes, comedians, and all celebrities. In this article, I introduce the best celebrities who are also poker players and stars.
Top 8 Celebrity Poker Players
Typically, celebrities own bankrolls that allow them to challenge themselves to play high stake poker games. Some celebrities learn the game and become pro poker players. The following list includes celebrities who are pro poker players with sharp skills. Don't let their kind smiles fool you; they are ready to take your stakes and are pretty good at it!
1. Jennifer Tilly
Jeniffer is one of the most successful Hollywood actresses who gained fame as an actress and a poker player. Her father is the reason for her interest in poker. He gave her a popular video poker game, World Series of Poker, and she fell in love with playing poker ever since. Jeniffer Tilly is a World Series of Poker Ladies' No-Limit Texas Hold'em Event bracelet winner in 2005 and won $158,000 by the end of that year. She is the first celebrity and actress turned poker player who won a World Series tournament. She was couched by her professional poker player boyfriend, Phil Laak. They started dating in 2005. Jeniffer Tilly is a successful actress and a professional poker player with an estimated net worth of $25 million in 2022.
2. Ben Affleck
You may know him because of the rumors around him or because he is handsome or a new husband to JLO, but he is a successful Hollywood actor and a great poker player. Ben has won many awards for his acting, and at the same, he won a lot of money at poker tables. His success at casino games started at the blackjack table when in 2001, he won $800,000 playing a game. Later, he turned his attention to poker and learned how to play poker from Annie Duke and Amir Vahedi. Although he only made two appearances in live Poker tournaments, he was coached well to win over $350,000, which is quite impressive for a celebrity poker player. His overall winnings from poker tables are $1 million.
3. Matt Damon
If I were writing a list of the hottest actors in Hollywood, I would have to place him at the top of the list! Matt Damon is handsome, an Oscar-winning actor, a film producer, a screenwriter, and also a great poker player. He has had so much success in his acting career. For example, many people know him because of his brilliant role in the Rounders film of 1998. Mike McDermott(Matt Damon) is a New York City Law student and a gifted poker player who dreams of winning the World Series of Poker. He plays poker to help his friends pay their loans. His character is as sweet as his actual character😍😋!
In 1998, Damon made his first appearance in the World Series of poker. Although he was eliminated by Doyle Brunson, known as Texas Dolly, this event started his career in poker. Damon's only professional earnings from a poker event were in the 2011 World Poker Finals, where he participated in the $250 No Limit Hold'em, finished at 45th and won $540. Although he has yet to make many appearances in professional poker tournaments, and we have no news of him playing professional poker lately, he is still one of the best celebrity players. He is playing behind the scenes and wins with other celebrity poker players. We know this from the fact that he does not like eyes on his personal life as he is not active on social media.
4. Tobey Maguire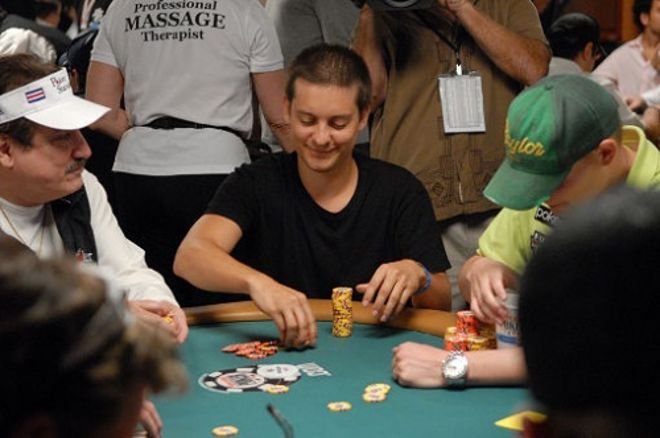 Although everyone knows Tobey for his Spider-Man role, only a few know he is one of the top celebrity poker players. Professional poker player Daniel Negreanu beat Tobey on his first try in poker in 2004. But this did not stop him. Tobey Maguire participated in WSOP several times, and in 2007, he won a total of $218,000. Tobey has a big love for poker. He plays both online and live poker games. In the mid-2000s, Tobey, Matt Damon, and Ben Affleck participated in controversial high-stakes cash games. Later, Molly's Game was produced based on the true events of these games in 2017. Maguire won poker titles, such as NBC National Heads-Up Poker Championships.
5. Jason Alexander
Most people know Jason because of his role as George Costanza on Seinfeld. However, acting and being a comedian are parts of his life. Jason Alexander loves playing poker, and he plays live and online poker whenever he can. His first appearance in celebrity poker tournaments was in the mid-2000s when he participated in Bravo's Celebrity Poker Showdown. He kept showing up on poker television shows until, in the 8th season, he won $500,000. Jason participated in WSOP in 2007 and 2009. Although he lost on the second day of the 2007 tournament, he finished in the top 30 percent in 2009.
6. Sam Simon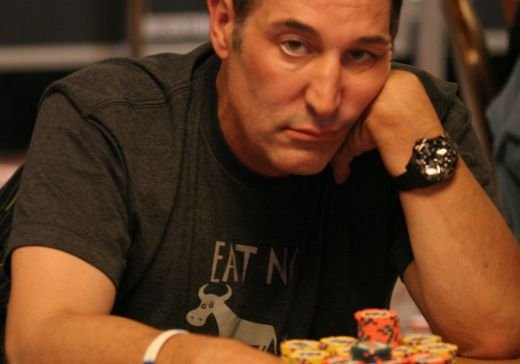 Although Simon is not as well-known as other actors on our list, he played an instrumental role on the FOX show Simpsons. You probably heard about it because it has been around for 30 years. Sam Simon is one of the creators of the show. Simon is a fan of Texas Hold'em and if you need some refresher on the game, you can check our guide on how to play Texas Hold'em. Sam started playing Texas Hold'em poker in his childhood and continued to become a top professional Hold'em player. He participated in WSOP from 2007 to 2011. His most significant victory goes back to the 2007 No-Limit Texas Hold'em Poker tournament where he became the first millionaire to hold the title. Sam Simon earned $362,900 in his professional poker career but, sadly, died in 2015 after a battle with colon cancer.
7. Brad Garrett
Garret is a stand-up comedian who loves to play poker. He has been very active in Hollywood, TV shows, movies, and the animation industry, where his unique voice is in high demand. Brad has unforgettable characters in his resume, including A Bugs Life-1998(as Dim), Garfield-2004(as Luca), and Finding Nemo-2003(as Bloat). He is a part-time professional poker player who primarily plays with other celebs. Watching him play poker is as fun as his stand-up comedy shows!
8. Shannon Elizabeth
Shanon has been a successful Hollywood actress and is mainly known for her role-Nadia- in the American Pie movie series. Although Shanon started playing poker at a young age, she only stepped into the professional world of poker in 2005. Shanon participated in WSOP in 2005 but lost and did not win any money. This did not stop her, though. She came back for the 2006 tournament, where she played impressively. The victories further encouraged her to play poker, and she claimed poker as her second career. She continued to become one of the top female celebrity poker players.
Shanon participated in the NBC National Heads-Up Poker Championship in 2007, where she finished third. She has Nicky Hilton New Year's Eve Poker Tournament first place in her poker resume. Although we have not heard much from her playing poker recently, she made over $200,000 in her poker career, and we hope to see her more at the table.
Best Celebrity Poker Players FAQs
Who is the best poker player in Hollywood?
There has yet to be a general agreement about that. However, Tobey Maguire is known to be the best actor poker player, and Jeniffer Tilly is the best actress poker player in Hollywood.
What are the most famous poker movies?
Several movies in Hollywood have a component of poker in them. However, Rounders(1998) is known to be the best poker movie ever. The other famous Hollywood poker movies are Molly's Game(2017), Maverick(1994), The Cincinnati Kid (1965), Casino Royale (2006), Lucky You(2007), and High Roller: The Stu Ungar Story (2003).
Who is the best athlete poker player?
Like other celebrities, athletes love to play poker, and some have become professional poker stars. Some of the professional athletes who play professional poker are:
🔸Richard Seymour (NFL)
🔸Boris Becker (Tennis)
🔸Paul Pierce (NBA)
🔸Allen Iverson (NBA)
🔸Michael Phelps (Swimming)
🔸Orel Hershiser (Baseball)
🔸Cristiano Ronaldo (Soccer)
Who is the best comedian poker player?
Like other celebrities, comedians love to play poker and participate in professional tournaments like the World Series of Poker. Among all comedians, the following are the best comedian poker players:
😁 Kevin Hart
😁Ray Romano
😁 Jason Alexander
😁Ken Cheng
To Sum It Up
Poker is popular enough to attract people of all ages, professions, and nationalities. Although high stake gambling does not have the best reputation among the general public, celebrities like actors, actresses, athletes, and comedians proved that you could professionally play poker, have fun, and not go broke. Celebrities like the ones on this page are successful people in their careers and also in professional poker.
read more:
Top 11 Best Poker Movies Of All time
How To Play Poker Online For Real Money?
Why Do Poker Players Wear Sunglasses?
Who is Melika Razavi, The Poker Beauty Queen of Our Time?
Antonio Esfandiari Poker Player Biography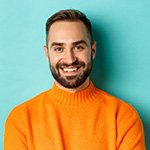 Joe - Poker Player
Join me to introduce you to the fascinating world of betting. From casino reviews to game tutorials and interesting content about sportsbooks
view Profile