Top 11 Best Poker Movies Of All time
Date:2022-12-14 Category: other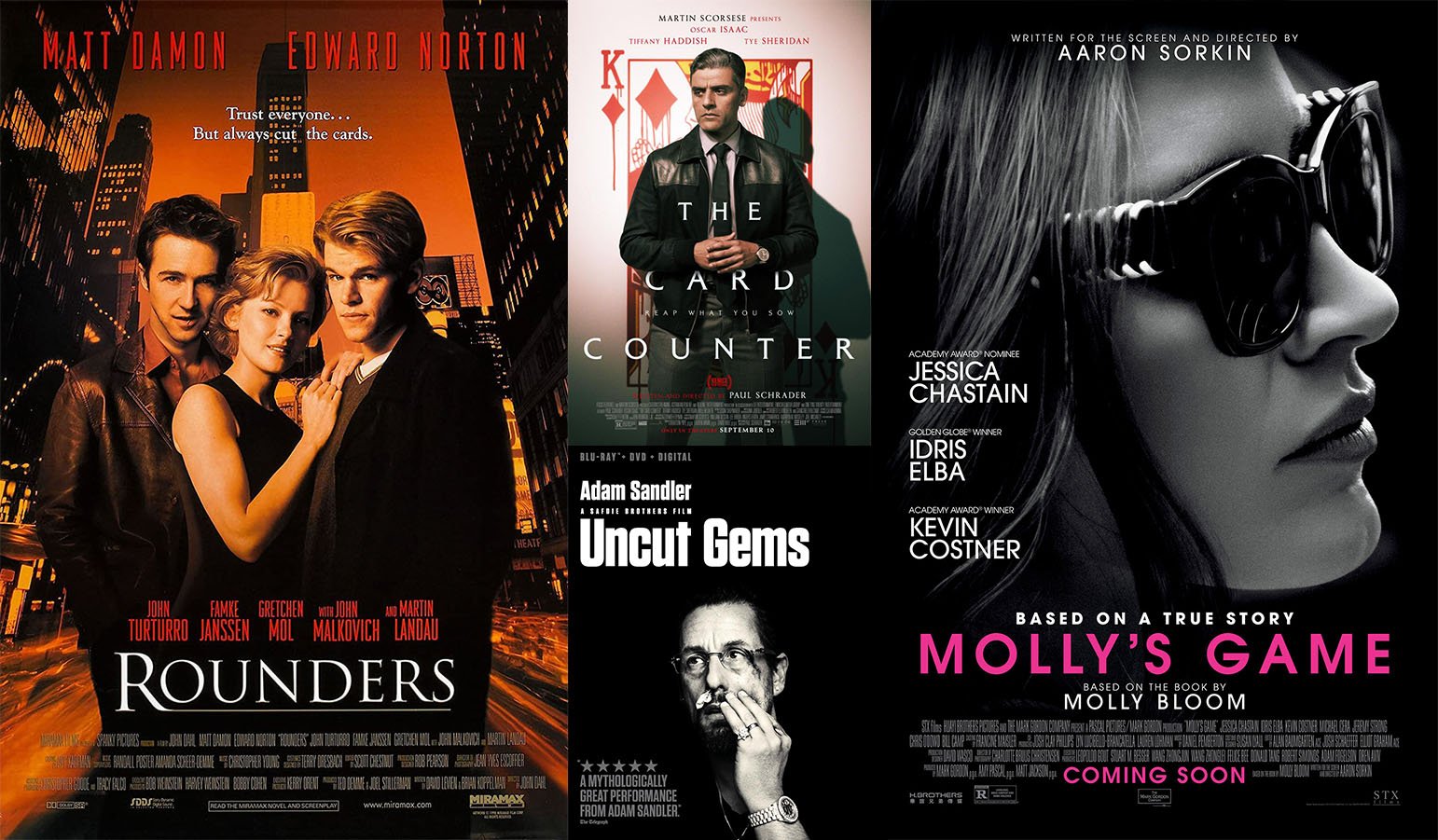 Poker is not a game; it is a lifestyle! Pro poker players and poker fans know what I'm talking about😉. Poker has been around since God knows when and has been used in movies for the extent of drama it can create. Poker is a synonym for gambling. Gambling is dramatic because it involves so much risk.
Meanwhile, unpredictability, competition, money prizes, and mental challenges make poker irresistibly popular. Mentioned characteristics are ideal for movies and drama scenarios. Hollywood history is full of movies about poker, based on gambling, or movies with a poker element in their scenarios. This article reviews the best movies about poker in Hollywood history.
Where To Watch Poker Movies?
Apart from movie theaters where you legally watch Hollywood movies, some online platforms also legally operate and allow you to watch the latest movies about poker and other genres. IMDb and Netflix are paid movie streaming where you can watch as many poker movies as you want as long as you pay the subscription fees. These platforms are excellent places to read movie reviews, ratings, and details about each movie. But a little heads up, you may become addicted to Netflix and ruin your school or even love life! Trust me, I've been there!! So, make sure to set a limit for yourself.
10 Best Poker Movies You Should Watch!
Of course, it is only possible to watch some movies produced in the history of Hollywood about poker. Yet, I can break down the list to the best ones to watch, enjoy, and learn new stuff about poker. Following is a list of the best and new poker movies to watch.
1. The Card Counter(2021)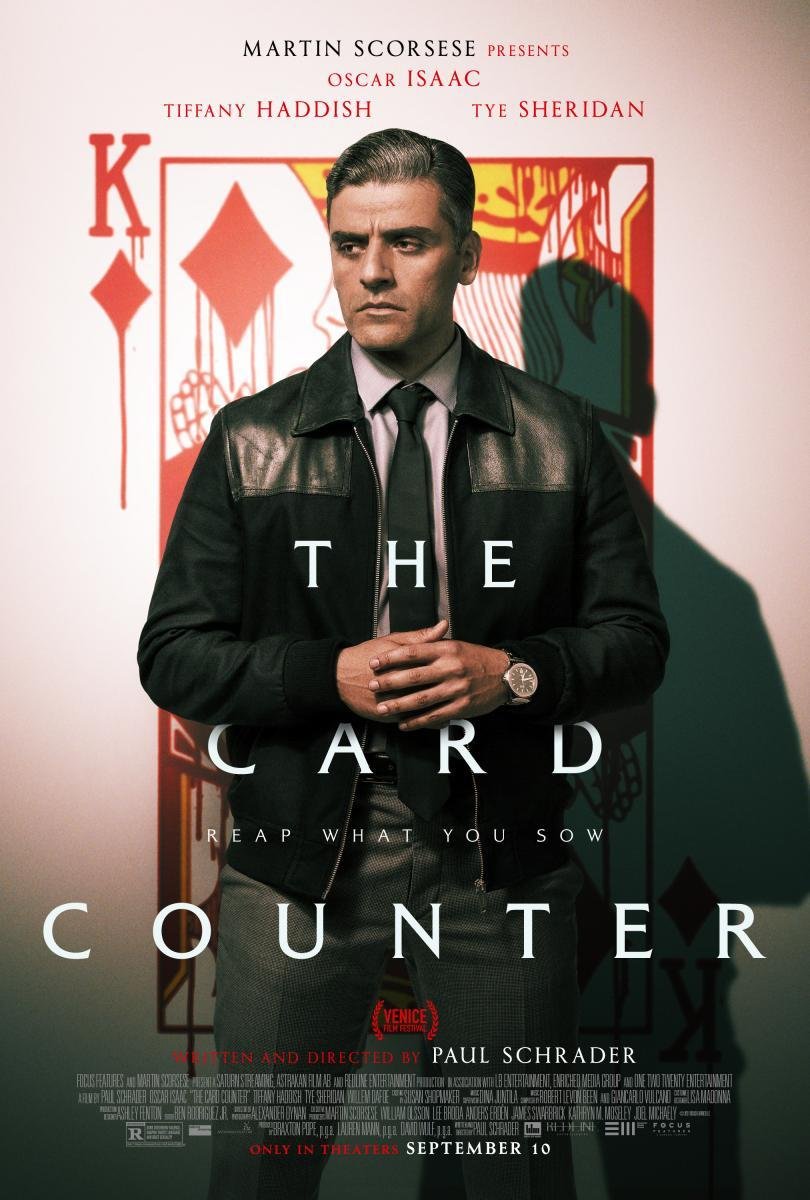 This is one of the latest movies about poker. The movie is a narrative about William Tell, an ex-military interrogator turned professional gambler seeking revenge on an enemy from his past. He learns how to count cards during his eight-year sentence in USDB prison.
"Poker is all about waiting." This is my favorite quote from the movie. Do you remember in the beginning, I said poker is a lifestyle? This is what I mean by that. It teaches you to wait until the right moment. The Card Counter is about poker, risk, guilt, retribution, patience, and how America operates.
The Card Counter Movie Info
Genres
Crime, Drama, Poker
Director
Paul Schrader
Writer
Paul Schrader
IMDb Rating
6.2/10
Stars
Tiffany Haddish, Tye Sheridan, Oscar Issac
2. Uncut Gems(2019)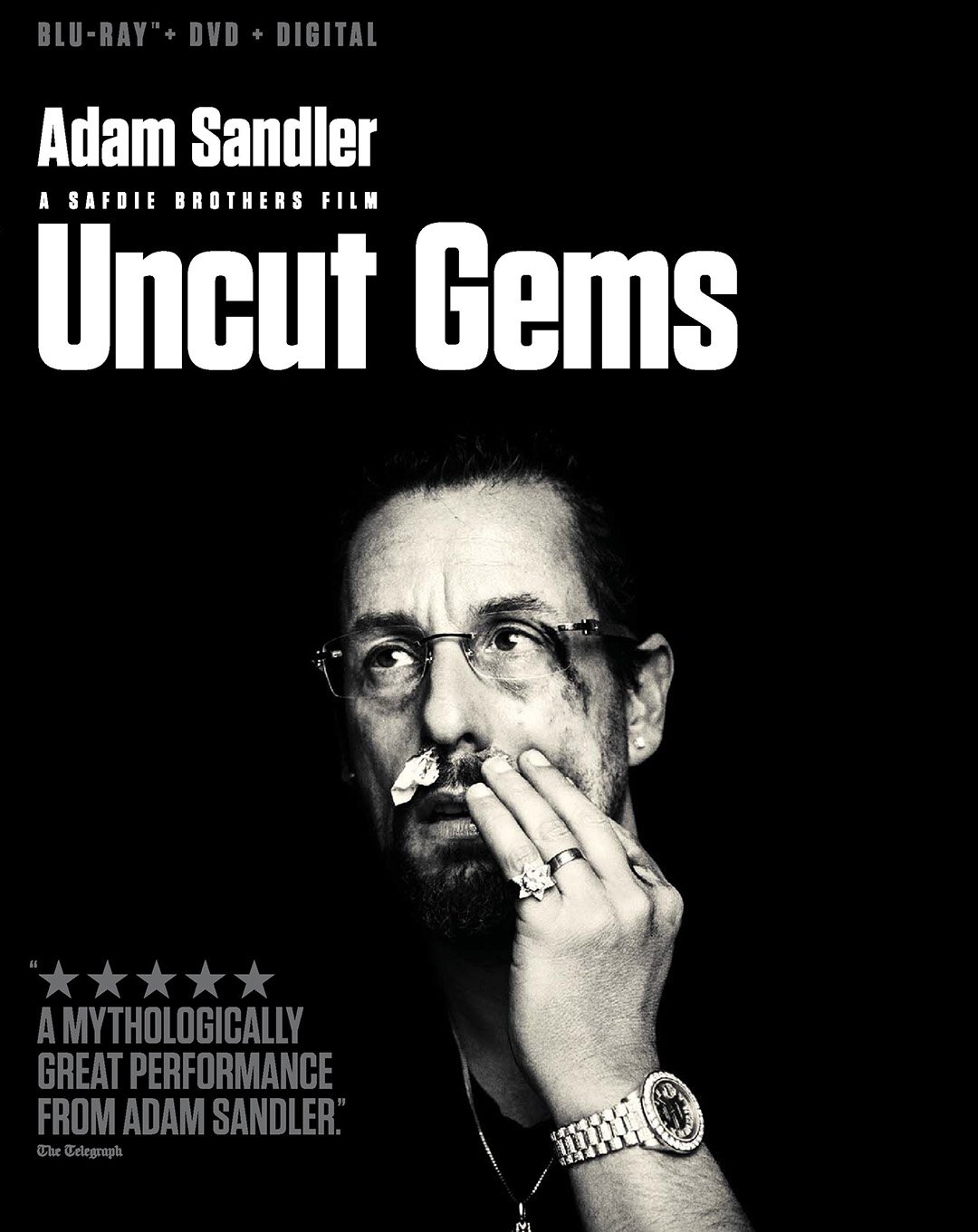 Adam Sandler is primarily known for his comedy roles. In this dark comedy movie, he plays Howard Ratner, a successful charismatic gems dealer whose gambling addiction puts him and his family into serious trouble. The narrative is about Ratner risking everything in placing a series of high-stakes bets in the hope of winning to pay his thousands of dollars in debts. This film is about gambling addiction's real consequences and how it ruins people's lives. Watch the movie to find out why "Everything I do is not going right"!
Uncut Gems Movie Info
Genres
Crime, Drama, Poker
Directors
Benny Safdie, Josh Safdie
Writers
Ronald Bronstein, Josh Safdie, Benny Safdie
IMDb Rating
7.4/10
Rotten Tomatoes Rating
91%
Stars
Adam Sandler, Julia Fox, Idina Menzel
3. Molly's Game(2017)
This movie is inspired by the true story of Molly Bloom's life, played by academy award nominee Jessica Chastain. Molly is a beautiful, young, Olympic-class skier who became an FBI target. Molly played and won the world's most exclusive high-stakes poker game for a decade before being arrested by FBI agents. Molly became an FBI target because of the underground poker empire she created for celebrities. While watching the movie, you will see lots of poker chips, beautiful women, and a loooot of money! Let's not spoil it, watch the movie today if you have not watched it yet.
Molly's Game Movie Info
Genres
Biography, Crime, Poker, Drama
Director
Aaron Sorkin
Writer
Aaron Sorkin(screenplay), Molly Bloom(based on the book)
IMDb Rating
7.4/10
Rotten Tomatoes Rating
82%
Stars
Jessica Chastain, Idris Elba, Kevin Costner
The Best USA Online Casinos of Nov 2023
4. Mississippi Grind(2015)
This movie is also about gambling addiction. Gerry, played by Ben Mendelsohn, is a gambling addict under profound financial debts due to his losses. He comes across the good-luck charm stranger Curtis, played by the princess charming Ryan Reynolds! Gerry takes Curtis on a high-stakes road trip down the Mississippi, hoping to win big money. Ryan Reynolds plays in the movie, so it is no surprise that it is a comedy-drama film about gambling addiction and poker.
Mississippi Grind Movie Info
Genres
Comedy, Poker, Drama
Directors
Anna Boden, Ryan Fleck
Writers
Anna Boden, Ryan Fleck
IMDb Rating
6.4/10
Rotten Tomatoes Rating
91%
Stars
Ben Mendelsohn, Ryan Reynolds, Yvonne Landry
 5. Lucky You(2007)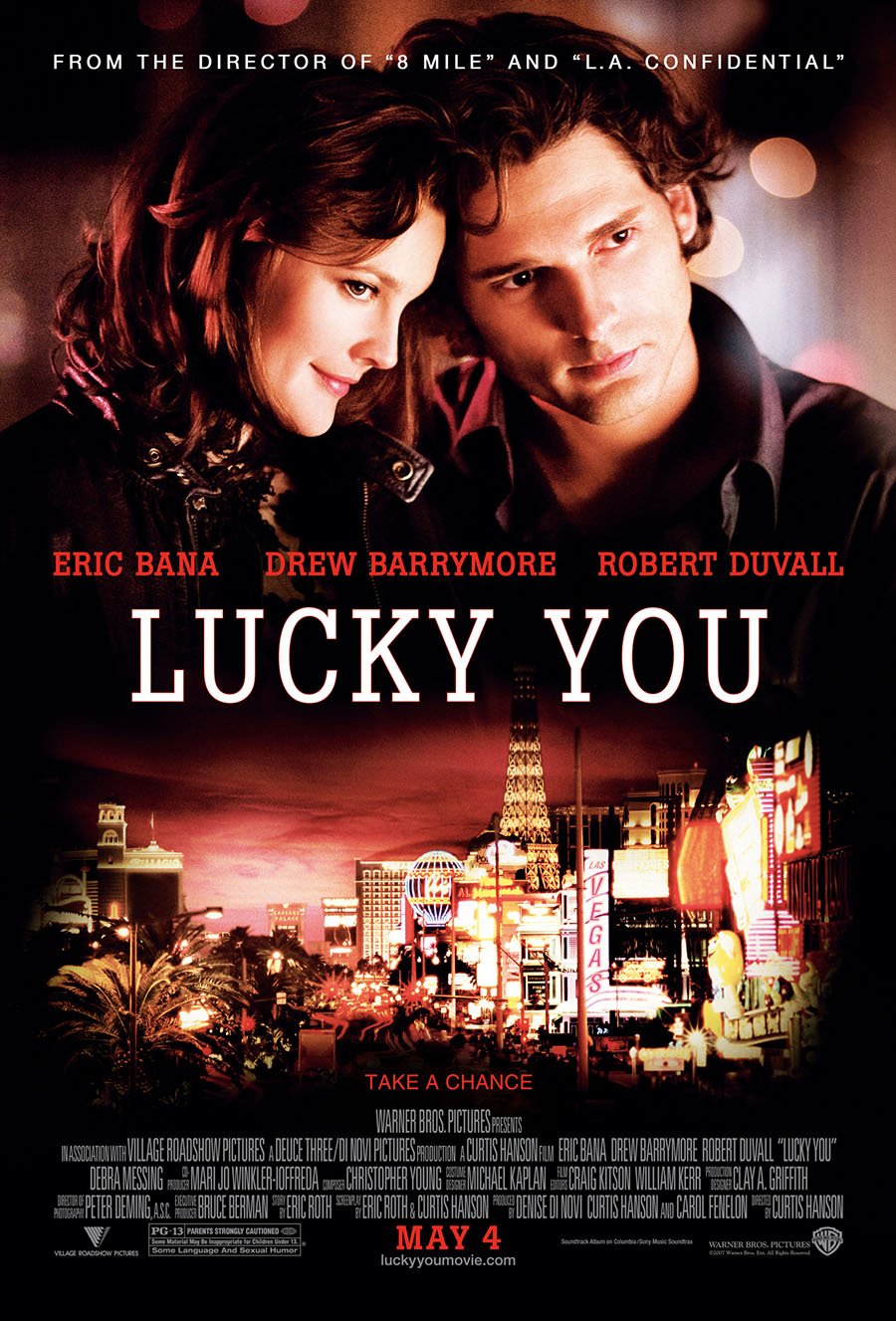 Romance lovers who happen to be poker fans, this film is for you. Lucky You is a love story in the middle of the poker table. Huck Cheever, played by Eric Bana, is a gifted young pro poker player who insanely loves Billie Offer, played by the beautiful Drew Barrymore. Huck wants to win a world championship in Vegas. However, his poker and love life are haunted by his relationship with his father, a poker legend who abandoned Huck's mother years ago. The movie is about love, making difficult decisions, paradoxical feelings, and of course, poker.
Lucky You Movie Info
Genres
Romance, Drama, Sport
Director
Curtis Hanson
Writers
Curtis Hanson, Eric Roth
IMDb Rating
5.9/10
Rotten Tomatoes Rating
28%
Stars
Eric Bana, Drew Barrymore, and Rober Duvall
6. 21(2008)
As the name and poster suggest, this movie is inspired by the true story of six MIT students who learn to count cards in blackjack to win big. Ben Campbell (played by Jim Sturgess) is a brilliant student who needs immediate cash to pay his tuition fee. For this reason, he joins a group of five other students trained by professor Mickey Rosa (played by the legend Kevin Spacey) to use their mathematical skills and talent to win big pots in Vegas casinos. They win millions of dollars in Vegas casinos. However, the ending is not a happily ever after for these talented students!
21 Movie Info
Genres
Crime, Drama, History
Director
Robert Luketic
Writers
Peter Steinfeld, Allan Loeb, and Ben Mezrich
IMDb Rating
6.8/10
Rotten Tomatoes Rating
36%
Stars
Jim Sturgess, Kate Bosworth, and Kevin Spacey
7. The Cooler(2003)
In an old-school Vegas casino-Shangri La-, a lonely single depressed casino worker named Bernie Lootz, played by William H. Macy, jinxes gamblers into losing. "Cooler" is an old-school concept of casinos. Coolers were professional unlucky people who brought bad luck and loss to gamblers. The movie is about Bernie Lootz, a cooler who breaks his curse when he falls in love with Natalie Belisario, played by Maria Bello. This is a movie about the miracle of love in a casino!
The Cooler Movie Info
Genres
Drama, Romance, Casino
Director
Wayne Kramer
Writers
Frank Hannah, Wayne Kramer
IMDb Rating
6.9/10
Rotten Tomatoes Rating
77%
Stars
William H. Macy, Maria Bello, and Alec Baldwin
8. Ocean's Eleven (2001)
Ladies and gentlemen! Here we come to my all-time favorite casino and poker movie: Ocean's trilogy. Of course, one reason for the success of this trilogy movie is its sexy and all-time handsome cast!! Do you know anyone who does not have a crush on George Clooney, Matt Damon, or Brad Pitt?! Apart from the sexiness of the cast, Ocean's Eleven was a success because it mixed drama, love, crime, and comedy well. The trilogy is primarily about our charismatic, handsome thief, Dapper Danny Ocean(Played by prince dreamy George Clooney!!), who orchestrates the most complicated, elaborate, and spotless casino heist in history. Danny has three rules, and his crew follows these while robbing casinos! Don't hurt anybody, don't steal from anyone who doesn't deserve it, and play the game like you've got nothing to lose. See? The guy is pretty disciplined😅. Danny combines an eleven-member team, including Frank Catton, Rusty Ryan, and Linus Caldwell, to rob the Bellagio, the Mirage, and the MGM Grand casinos owned by Terry Benedict (played by Andy Garcia). It's not going to be easy, but our charismatic disciplined thief wants to score the biggest heist in history. Spoiler alert: they do it and walk away with $150 million. The movie is fun and adds elements of stress and mystery, making it a must-watch movie! You definitely watched it, but if you didn't, head to Netflix and watch it today😉.
Ocean's Eleven Movie Info
Genres
Drama, Romance, Casino
Director
Wayne Kramer
Writers
Frank Hannah, Wayne Kramer
IMDb Rating
7.7/10
Rotten Tomatoes Rating
83%
Stars
William H. Macy, Maria Bello, and Alec Baldwin
9. Rounders (1998)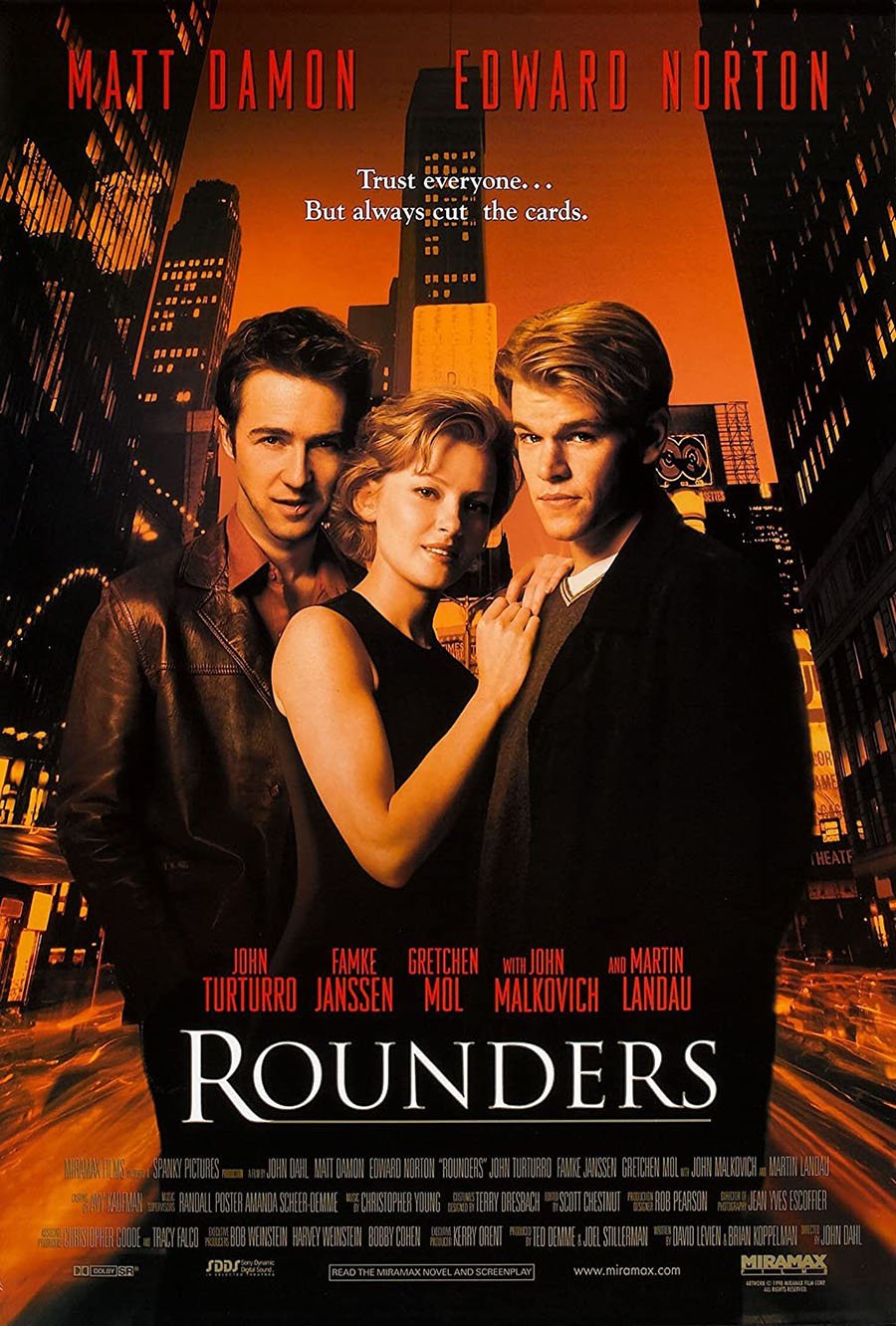 This is one of the most famous poker movies in the history of Hollywood. People know Matt Damon from his brilliant role in the Rounders movie. You likely watched it. Still, in case you didn't, this is a narrative about a young, reformed gambler Mike McDermott(played by handsome Matt Damon), who loses all his money against a Russian gambler named Teddy KGB(played by John Malkovich). Mike's girlfriend Jo (played by Gretchen Mol) makes him stop gambling. Mike's friend, Worm(played by Edward Norton), comes out of prison, and has an old debt to pay. Mide decides to help him by coming back to high-stakes poker games. Mike finds out the debt is owed to Teddy and decides to face him and try to beat the old Russian opponent.
Rounders Movie Info
Genres
Drama, Crime
Director
John Dahl
Writers
David Levien and Brian Koppelman
IMDb Rating
7.3/10
Rotten Tomatoes Rating
64%
Stars
Matt Damon, Edward Norton, and Gretchen Mol
10. Poker Face (2022)
The latest movie about poker is directed by the legend Russell Crowe and was released on November 16, 2022. If you have not watched the movie, I suggest watching it now. By right now, I mean right after you finish this article!
The movie is about poker, but it shows how life is similar to the game of poker. It is a narrative about a tech millionaire, Jake Foley, a poker player by nature who loves to play any kind of poker. Jake(Russell Crowe) invites his best friends to his home for a moment of truth to play a high-stakes Texas Hold 'em. But things get awry as a killer thief invades Jake's home.
I don't want to spoil it but let me finish with my favorite quote from the movie:
Life is just a game, right? It's all in how you read and respond to your opponents. You watch how they bet, how much they bet. Everything they do informs you more. If luck is leaving you, apply what you can to change its motion.
Poker Face Movie Info
Genres
Crime, Action, Poker
Director
Russell Crowe
Writers
Russell Crowe(screenplay), Stephen M. Coates(story)
IMDb Rating
5.7/10
Rotten Tomatoes
13%
Stars
Russell Crowe, Liam Hemsworth, RZA
11. Casino Royale(2006)
James Bond fans must have watched this movie. Casino and poker are inseparable elements of James Bond movies. Casino Royale is about James Bond's(Daniel Craig) first mission as 007 agent. His mission is to beat a private banker funding terrorists in a high-stakes poker game at Casino Royale, Montenegro. The movie won 1 BAFTA Award, 27 wins, and a total of 44 nominations.
Casino Royale Movie Info
Genres
Action, Adventure
Director
Martin Campbell
Writers
Neal Purvis(screenplay), Robert Wade(screenplay), and Paul Haggis(screenplay)
IMDb Rating
8/10
Rotten Tomatoes Rating
94%
Stars
Daniel Craig, Eva Green, and Judi Dench
12. Casino(1995)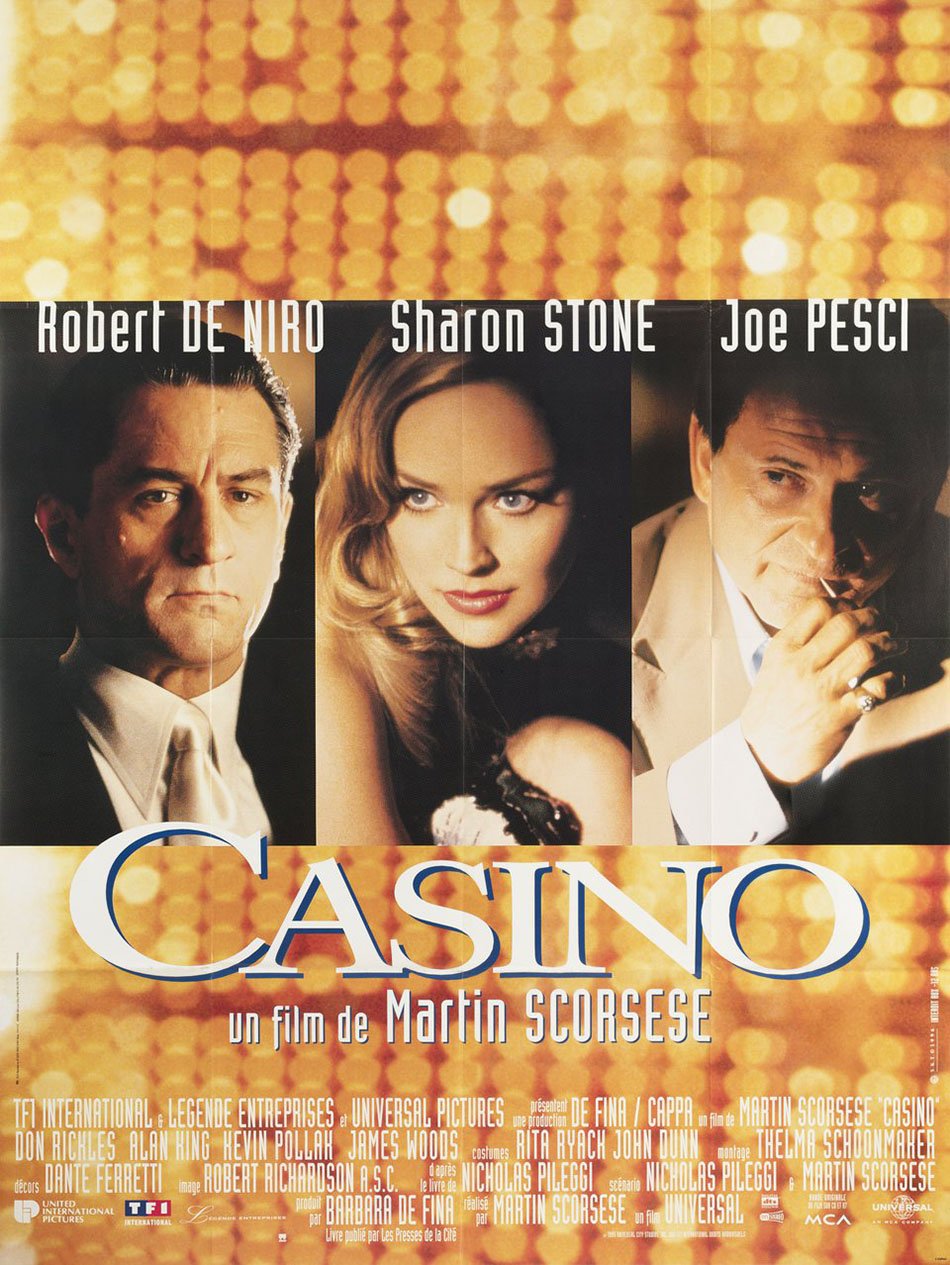 It is a classic American crime epic movie involving greed, deception, money, power, and murder. Casino is a narrative of two best friends: a mafia enforcer(Sam) and a casino executive(Nicky), who compete against each other over a gambling empire and a love story. The legend Robert De Niro plays Sam 'Ace' Rothstein, another unforgettable role he played. The movie was nominated for 1 Oscar Award, four wins, and a total of 11 nominations.
Casino Movie Info
Genres
Crime, Drama
Director
Martin Scorsese
Writers
Nicholas Pileggi(book), Martin Scorsese(screenplay)
IMDb Rating
8.2/10
Rotten Tomatoes Rating
79%
Stars
Robert De Niro, Sharon Stone, and Joe Pesci
To Sum It Up
I summarized the best poker movies on IMDb and the history of Hollywood. These are the best dramas with the element of poker you can watch. These movies show how poker shapes real lives. If you have not watched any of the movies on this list, I highly recommend watching them.
The Best USA Online Casinos of Nov 2023
ONLINE CASINO
WELCOME BONUS
RATING
START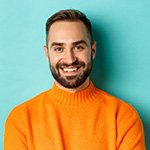 Joe - Poker Player
Join me to introduce you to the fascinating world of betting. From casino reviews to game tutorials and interesting content about sportsbooks
view Profile