Exploring The Most Popular Video Poker Variants
Date:2023-11-19 Category: Games
Video poker has exploded in popularity over the last few decades. While the classic game of Jacks or Better reigns supreme, dozens of interesting video poker variants have emerged to provide players with fresh challenges. In this article, we will explore some of the most popular variant games, analyze the differing strategies required for success, and offer tips to help novice and experienced gamers get the most enjoyment out of these machines.
5 Most Popular Video Poker Variants
Online and physical casinos today offer an extensive selection of video poker machines beyond classic Jacks or Better designed to grab your attention as a player. Some variants tout potential payout percentages over 100% – providing skilled gamblers an opportunity to gain an edge with optimal strategy. However, these lucrative machines come with increased complexity, requiring more nuanced decision-making than traditional video poker. Once you've honed your expertise and bankroll playing Jacks or Better, you may be ready to take on the challenge of these more involved variants. Here is a short breakdown of the five most popular video poker variations you can find at nearly every casino.
Jacks or Better is the original video poker game that all variants are based on. Players are dealt 5 cards and try to make the strongest poker hand possible. Getting a pair of jacks or higher results in a payout. Learn the ultimate Jacks or Better strategy.
In the video poker variant Deuces Wild, all four deuces(2s) in the deck serve as wild cards, allowing them to take on any card value needed to make a winning poker hand. This makes it easier to make strong hands like straights and flushes.
Bonus Poker rewards players with higher payouts for making certain hands like a straight or flush. The payouts are lower for weaker hands, like two pair. This variant adds excitement by giving bigger prizes.
Double Bonus Poker takes Bonus Poker a step further, awarding extra payouts for making 4-of-a-kind hands of certain ranks. Landing four aces with a kicker can pay 800-1! This jackpot element adds appeal.
Multi-hand Video Poker allows playing up to 100 hands simultaneously. Players make one initial bet, and each starting hand is then played independently. This adds an action element and the potential to win more in each round.
1. Double The Fun: Deuces Wild Video Poker!
Deuces Wild is a popular variant that requires a unique strategic approach. Using the optimal strategy, full-pay machines return over 100%. Like traditional video poker, 52 cards are used, but all four 2s act as wild cards-players can use the cards like a joker and take the value of the best possible card in the deck. It transforms the relative value of hands, as players can use the deuces to complete straights and flushes. With this video poker variant, three-of-a-kind is the minimum hand needed to win versus the standard pair of jacks. The adjusted pay table for Deuces Wild significantly increases rewards for four-of-a-kind and full houses, while reducing two pair and three-of-a-kind payouts.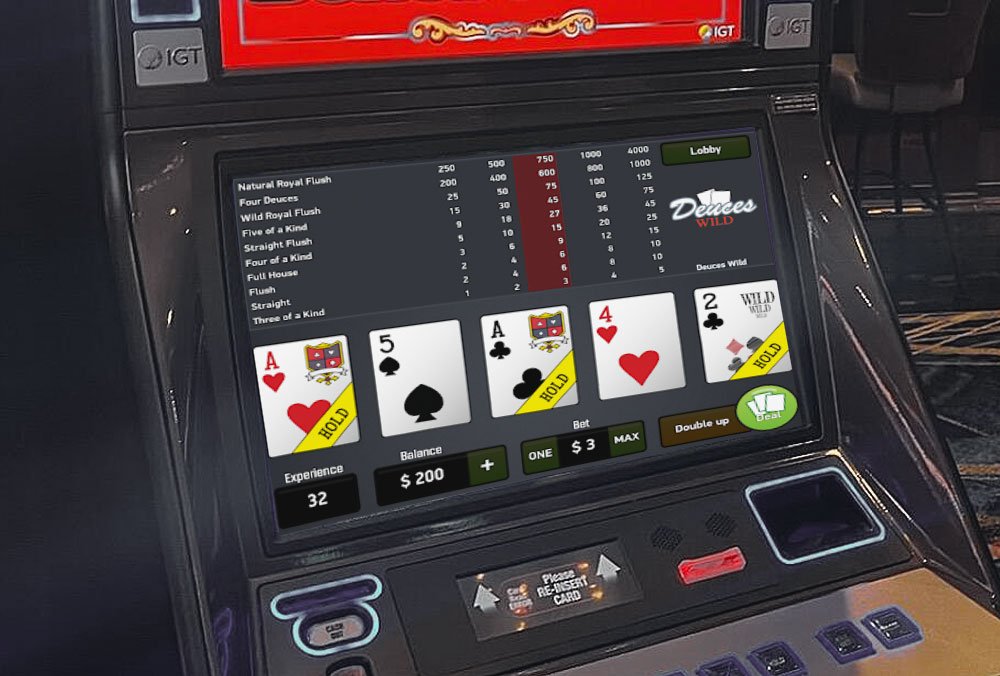 Here is the visualization of Deuces Wild Video Poker payouts:
Deuces Wild Payouts
Hand
The payout for 1 coin
3 of a kind
1
Straight
2
Flush
2
Full House
3
4 of a kind
5
Straight Flush
9
5 of a kind
15
Wild royal flush
25
Four deuces
200
Royal flush
800
The presence of wild cards makes Deuces Wild an entertaining option for both casual and seasoned pros alike. However, the gameplay is far more volatile versus traditional Jacks or Better. A major potential edge source comes from hitting a royal flush or a hand with four deuces.
Deuces Wild Ultimate Strategy Made Simple
Deuces Wild's playing strategy is slightly more complicated than for Jacks or Better. Still, you can learn and master it if you're diligent and disciplined. Here is a simplified strategy to help you start playing right after reading this article:
In this game, four deuces are the best possible hand. So, you should keep all four when you are dealt.
If you have three deuces, you should keep your whole hand if and only if you can build a royal flush or 5-of-a-kind
Hold any paying hand if you are not dealt or have any deuces.
Always keep three cards to a royal flush.
Throwing away a deuce is a no-no in this game. Never throw away one.
If you don't have any of the 1-4 scenarios, but you have a pair, keep it.
If you get two pair without a deuce, you should throw away one pair(it doesn't matter which one you throw away.)
In this game, having a pair is better than having a "four to a straight" or "four to a flush".
Always keep five of a kind.
If you have a single jack, queen, king, or ace, give it up. Never keep a single J, K, Q, or A.
Any hand that is not listed above, avoid playing it.
The Best USA Online Casinos of Dec 2023
2. Get a Bonus With Bonus Poker Video Poker
Bonus Poker has become a popular video poker variant in casinos, appealing to players craving excitement while limiting risk. The game follows the same basic Jacks or Better format but implements adjusted pay tables offering lucrative bonuses for Four of a Kind hands.
Bonus Poker has different pay tables; you will find different ones at online casinos. But I will cover the payouts for the most common one.
| | |
| --- | --- |
| Bonus Poker Pay Table | RTP or Payout Percentage |
| 35/35/35 Bonus Poker | 99.66% |
| 8/5 Bonus Poker | 99.17% |
| 7/5 Bonus Poker | 98.01% |
| 6/5 Bonus Poker | 96.87% |
| Super Low Pay Bonus Poker | 86.31% |
8/5 Bonus Poker Payouts
While it may not be the most lucrative game out there, it's perfect for those who just want to have a good time. With plenty of opportunities to hit it big and score some massive jackpots, this Bonus Poker table will surely keep you entertained for hours. 8/5 Bonus Poker offers a more stable and predictable experience, unlike some more volatile games. Before I list the payouts, let's get on the same page about betting maximum coins. If you want to receive the payouts listed below, you must bet max. Anything less than that will dilute your pay % and you won't receive the Royal Flush bonus.
| | |
| --- | --- |
| Hand | Payout |
| Pair (Jacks or Better) | 1 |
| Two Pair | 2 |
| 3-of-a-Kind | 3 |
| Straight | 4 |
| Flush | 5 |
| Full House | 8 |
| Four 5s through Kings | 25 |
| Four 2s through 4s | 40 |
| Four-of-a-Kind Aces | 80 |
| Straight Flush | 50 |
| Royal Flush | 800 |
8/5 Bonus Poker Strategy
Hold any pair unless you have four to a straight flush or royal flush.
Hold one or two high cards (Jack or higher) and replace the rest if you don't have a pair.
Study the pay tables to know which hands are worth the most.
Bet the maximum number of coins to maximize your potential winnings.
Break up a straight or flush if you have a chance at a higher-ranking hand. For example, if you have Q J T T 3, you should keep 3 to a royal flush. If you have 3 7 9 T T, you should keep 4 to a flush.
3. Double Bonus Poker: Payouts and Strategies Uncovered
A popular video poker variant is Double Bonus Poker, which provides extra payouts for certain four-of-a-kind hands. Hitting four aces, for instance, can award an 800-credit prize when playing five coins. Sadly, the full-pay version with a 100.17% return is not offered online and is rare in land casinos nowadays. But Double Bonus Poker still makes an excellent choice given its higher variance of 28.3%. You'll encounter longer dry spells between wins, but the rewards tend to be more substantial when you hit. The optimal paytable for Double Bonus goes by names like "10-7" or "50-10-7-5," referring to the payouts for various hands. Lower-paying versions usually adjust one or more of these payouts downward, resulting in a reduced return rate. Common online editions offer 99.37% or 99.11% returns, but the best available theoretically pays out 99.92%. This top version can be found under the All Aces Double Bonus label at Microgaming sites.
The optimal strategy for Double Bonus Video Poker differs somewhat from standard play due to the enhanced payouts for certain 4-of-a-kind hands. Aside from those boosted four-of-a-kind rewards and the reduced two-pair payout, Double Bonus is quite similar to Jacks or Better. The optimal strategy for full-pay Double Bonus Poker can follow the same guidelines used in Jacks or Better, but this approach will reduce the theoretical return to approximately 99.65 percent. Remember that even with perfect play, Double Bonus's high variance means you'll lose more sessions than you win. But many winning sessions will produce sizable payouts, especially when you hit one of the four-of-a-kinds with an extra bonus. When luck is on your side, those big wins can really pay off.
4. Multitasking With Multi-Hand Video Poker
A version of video poker called Multi-Game Play has gained popularity for a good reason: it allows you to play multiple hands at once using the same starting cards.
One of the most popular variants of this version is Triple Play. Triple Play lets you play three separate poker hands simultaneously and is offered for many popular video poker versions, including Jacks or Better and Deuces Wild. When starting a session, you'll typically have multiple game options to select from. Just pick the game type and bet size you want. With Multi-Game video poker, you can play more hands simultaneously.
| | |
| --- | --- |
| Triple Play Video Poker Pro | Triple Play Video Poker Con |
| Playing three hands in Triple Play video poker can help smooth out normal volatility since you get three chances to make winning combinations on each deal. While your overall payout percentage and results don't change, hitting rare hands like a royal flush happens more frequently. Even though the odds don't improve, playing three hands at once means you'll likely hit a royal flush about every 30 hours of play rather than taking three times as long on a single-hand game. | You can eat through your bankroll three times faster than standard single-hand video poker. For example, if you're playing on a $1 machine, you'll need to bet $15 rather than $5 to play all three hands at maximum coins. |
Multi-Hand Video Poker Strategy
Beyond Triple Play, some multi-game video poker machines allow playing even more hands at once. These operate similarly to Triple Play but give options to play 5, 10, 50, or even 100 hands simultaneously! While these high-volume variants might seem excessive, they can appeal to action seekers looking for constant excitement.
Play each hand independently based on the basic single-hand strategy.
The statistical RTP% remains the same regardless of number of hands played. More hands just provide more volatility up and down.
Be aware that you're betting multiple times as much per round, so bankroll management is crucial.
Think of each hand as completely separate. What happens on the one hand doesn't influence any probabilities or recommend different plays on the other hand.
Play at a pace you're comfortable with. There's no rush, so take time to analyze each hand on its own merits.
Wrap Up
While classic Jacks or Better video poker provides a great introduction, exploring some of the many variants expands your options and enjoyment. Just be sure to learn the optimal strategy for each, as the plays can differ from game to game. Seek out the best pay tables, use proper strategy, and manage your money wisely. Then, you can experience video poker variety while maximizing your payouts across many exciting versions of this popular casino game.
Most Popular Video Poker Variants Strategies FAQs
What Online Casinos Offer The Best Video Poker Pay Tables?

Betonline, Wild Casino, Super Slots, and High Roller Casino are top legit online casinos with the best video poker variants paying high RTP percentages.

Do Variants Like Deuces Wild Use The Same Basic Strategies As Jacks or Better?

No, the different rules and pay tables of variants mean you need to learn adjustments from the basic Jacks or Better strategy. The wild cards in Deuces Wild alter the best hold choices.

What Are The Best-Paying Common Video Poker Variants?

Jacks or Better, Deuces Wild, and Bonus Poker tend to offer the highest returns when playing with perfect strategy and ideal pay tables. But many variants can provide great play if you learn proper strategy.

Should New Players Avoid Progressives With Large Jackpots?

Yes, progressive jackpots come with a trade-off of lower payouts on non-jackpot hands. Regular video poker offers better returns.
The Best USA Online Casinos of Dec 2023
ONLINE CASINO
WELCOME BONUS
RATING
START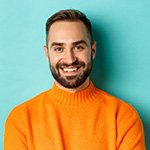 Joe - Poker Player
Join me to introduce you to the fascinating world of betting. From casino reviews to game tutorials and interesting content about sportsbooks
view Profile