Jacks or Better: Best Video Poker For Beginners
Date:2023-11-18 Category: Games
Video poker has become one of the most popular casino games over the past few decades, with Jacks or Better being a classic version that's simple to learn and the best bet for beginners. But it requires skill to master. In this strategy guide, I will walk through the basics of optimal play for Jacks or Better, including first-hand experiences to learn which hands to hold or discard to maximize your payouts. With the right moves, the house edge can be reduced to virtually zero, making it one of the best games to play at the casino for those willing to learn.
Jacks or Better: Best Video Poker For Beginners
For newcomers to video poker, it's best to focus your efforts on a single game variant when getting started: 9/6 Jacks or Better. This classic version of video poker has remained popular since the genesis of electronic poker machines and is regarded as the quintessential game by industry experts. Jacks or Better offers one of the most favorable odds available at any casino. As the name implies, a minimum hand of a pair of jacks is required to receive a payout on your bet. The "9/6" refers to the game's pay table, specifically the 9 to 1 payout for a full house and 6 to 1 for a flush, which are ideal returns for the player compared to other video poker variants. If you master a game like Jacks or Better, you can build a solid foundation in optimal strategy before moving to more complex variations. So, for beginners looking to gain an edge at the virtual poker tables, Jacks or Better is the perfect place to start.
Jacks or Better Payouts Made Very Simple
Jacks or Better video poker is an enjoyable, fast-paced game that is very straightforward to learn. But it stands out because it offers some of the most favorable odds of all casino games when using proper strategy. The "9/6" pay table, referring to the 9 to 1 payout for a full house and 6 to 1 for a flush, provides a 99.5% return to the player(RTP or Payback) with optimal play. This means the house edge is extremely small in Jacks or Better. When you also take into account the cashback rewards, complimentary perks, and special bonuses many online casinos offer for frequent play, you can often break even or come out ahead in Jacks or Better over time. Online casinos will give cash rebates to players based on the duration and amount wagered. Jacks or Better video poker is a great option for those looking to get the best odds possible in the casino, thanks to its generous pay table and opportunity for cashback and bonus features.
9⁄6 Jacks or Better Payouts

Hand

1 Coin Payout

2 Coins Payout

3 Coins Payout

4 Coins Payout

5 Coins Payout

Pair of Jacks or Better

1
2
3
4
5

Two Pair

2
4
6
8
10

3 of a Kind

3
6
9
12
15

Straight

4
8
12
16
20

Flush

6
12
18
24
30

Full House

9
18
27
36
45

4 of a Kind

25
50
75
100
125

Straight Flush

50
100
150
200
250

Royal Flush

250
500
750
1,000
4,000
The payout table for Jacks or Better shows the number of coins won for each winning hand, not the actual dollar values. So, if you are playing on 25¢ machines and hit a royal flush with maximum coins bet, you would win 4,000 coins, which is $1,000, not the $4,000. The pay table demonstrates that the higher-ranking poker hands provide the biggest payouts. In addition, the winnings increase proportionally as you bet more coins, up to the max bet – with one critical exception. The top prize, the royal flush, has a massive jump in return when you play the maximum of 5 coins. This jackpot is the ultimate goal for every video poker enthusiast. So, by playing max in Jacks or Better, you greatly boost your chances of hitting a sizable royal flush payday.
The table above also includes your initial stake. The Payout is one coin if you bet a single coin and receive a hand with two jacks. This simply returns your original wager, allowing you to break even on that hand. While not an exciting win, breaking even certainly beats losing your bet, especially since hitting a pair of jacks is the most common winning outcome in the game.
To maximize your winnings, confidently bet five coins in Jacks or Better for the jackpot potential of the Royal Flush. Anything less will diminish your expected return by approximately 1.5 percent.
The Best USA Online Casinos of Dec 2023
Basic Video Poker Strategy VS Simplified Jacks or Better Strategy
Jacks or Better may seem straightforward initially, but strategic complexities can turn it into a losing game for those without the right know-how. Even experienced players often make poor choices on tricky hands, going with their gut instinct rather than the optimal strategy.
Unlike traditional poker, where you contend with unknowns like opponent hands and bluffing, video poker is more about known probabilities. This means there is an objectively correct strategy for each and every hand if you take the time to learn it. Just as in blackjack, mastering video poker requires learning the perfect decision for any scenario that can come up.
Applying the optimal strategy transforms video poker from a guessing game into one with a statistical edge. Those willing to study up can gain an advantage over the casual player relying on hunches. A bit of upfront work memorizing the right plays pays off over the long run. But if you don't feel like memorizing the whole strategy sheet, you can pick one of the following options:
Print the basic video poker strategy chart and keep it while playing. It may be distracting and time-consuming. But it is a good idea to use the chart until you are confident enough with your video poker strategies and skills.
Use a simplified strategy as explained below.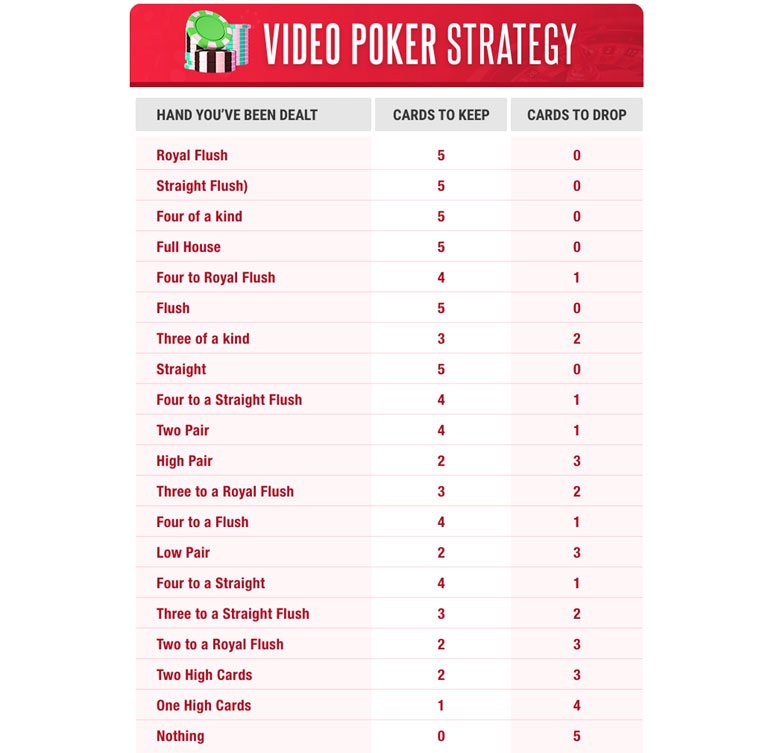 Let's learn how to read the video poker strategy chart together:
Learn and master video poker hand ranking to know what hand beats what.
Always read the chart from the top down. In other words, if you have two potential hands on a single draw, you should play the hand that is higher in rank.
4 to a flush or 4 to a straight indicates that you already have 4 cards of 5 cards needed to complete your flush or straight hand(the same explanation is true for 3 to a royal flush and so on.)
Suited indicates that you have two or more cards with the same suit. For instance, two or more cards of Clubs, Hearts, Spades, or Diamonds.
When your cards are in a consecutive order, say, 5,6,7,8, it is known to have an outside straight. It means you can make the straight from either end of your sequence(4 or 9).
When your cards are not in consecutive order, say, 5,6,8,9, it is known to have an inside straight. It means you have half a chance to make the straight hand.
Jacks or Better Simplified Strategy
The following simplified strategy is proven to reduce the house advantage to less than 1% over the long run.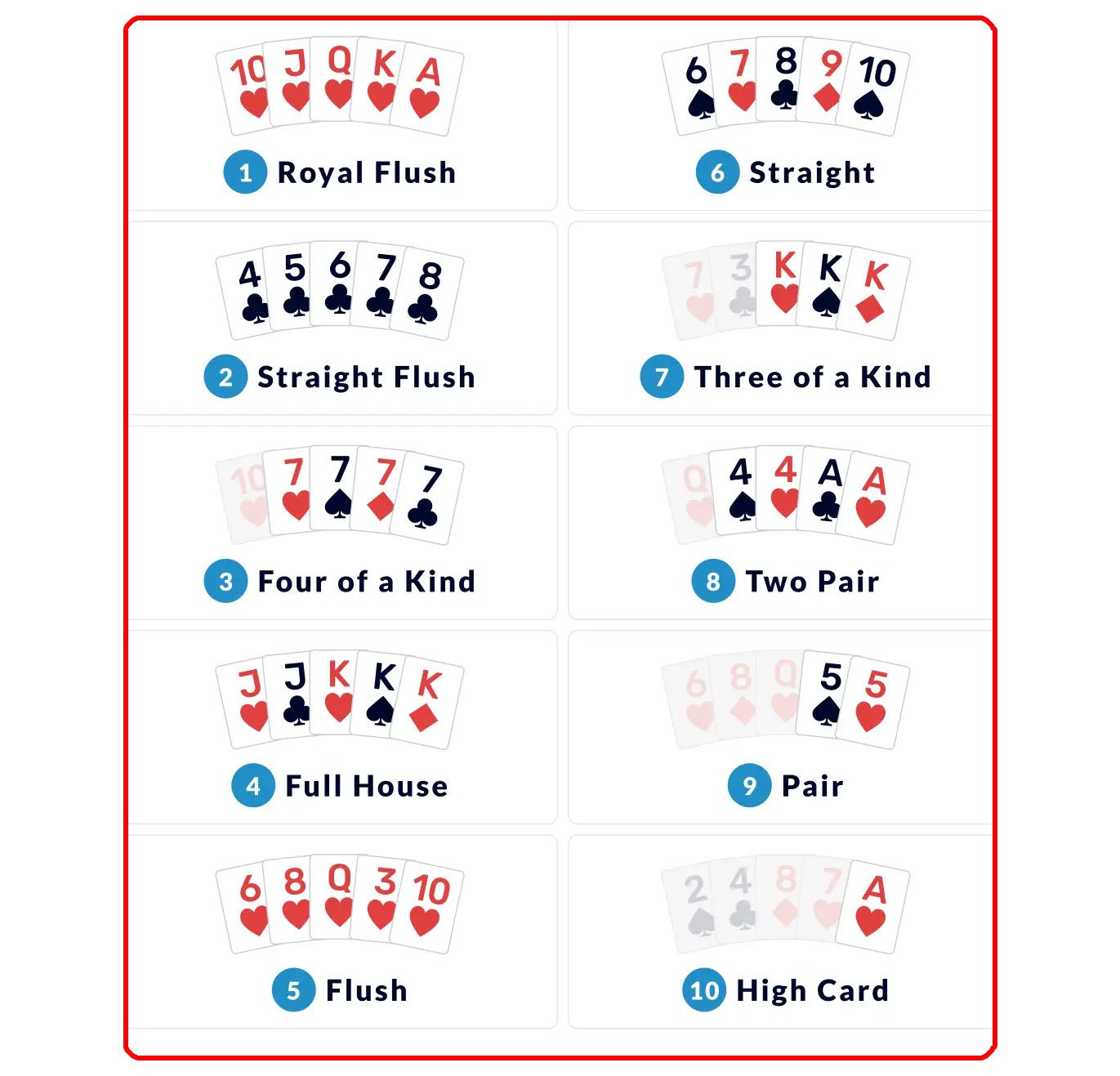 As shown in the picture above, hands are hierarchical, with the best hands and highest payouts first. For each starting hand, you must find the highest option available and select and hold the cards accordingly. Here are the main points to remember:
Js, Ks, Qs, and Aces are High Cards and High Pairs.
Cards 2 through 10 are considered Low Pairs.
An Outside Straight and An Inside Straight are the same as explained in the main video poker strategy(See previous section.)
Utilizing Jacks or Better Strategy: Example
When you play Jacks or Better, from 4 of a kind to 4 to flush, everything is pretty straightforward, and most strategy battles take place with commonplace hands from 9 to 16 in the chart. Here is where things get a little complicated and may confuse you. So, let us practice a hand together to clarify things.
Suppose your starting hand is:
3♣ J♣ 5♣ Q♣ 3❤
According to the strategy chart, you have the following:
4 to a flush (hold the cards) – Number 8 in the chart
Low pair (hold the cards) – Number 9 in the chart
Two suited high cards (hold the cards) – Number 11 in the chart
As you can see, 4 to a flush is the highest rank. So, it is the best play to hold it and discard the 3♥.
Remember, playing according to the strategy often involves tough choices and can be difficult for new players. For example, keeping a "high pair" over "four to a flush". But it is critical to remember sticking to the strategy can guarantee your long-term success with Jacks or Better, even if your gut tells you to make a different move.
5 Proven Tips For Winning Jacks or Better Video Poker
Since we don't recommend what we have not tried, we have tested the above strategies and learned from our first-hand Jacks or Better experiences that the following tips are real game changers when playing online Jacks or Better at the top online casinos.
Tip 1: Always Seize The Opportunity For A Royal Flush!
It means whenever you have 4 cards to a royal flush, regardless of the other card, the smart move is to draw for the royal flush. For instance, if you are dealt A♥ A♦ K♥ Q♥ J♥, discard the A♦. This way, you go for a royal flush with the remaining 4♥s.
Tip 2: Always Bet The Max!
Of course, after your bankroll management! It is a proven tip for video poker to bet the maximum coins because your overall payback dilutes when you bet less than the max.
Tip 3: Always Get Rid of A Kicker!
A kicker is a high card plus your pair. Never keep a kicker.
Tip 4: Never Break a High Pair Unless ..
You are allowed to break a high pair only if you have "4 to a royal flush" or a "4-card straight flush".
Tip 5 : Go For The Flush
Go For The Flush When You Have Both A Four-Card Flush And A Four-Card Straight Draw.
Wrap Up
Jacks or Better video poker is the easiest and best variant to approach the game. While the game relies partly on luck in the cards you are dealt, adhering to optimal strategies for holding and drawing cards can greatly improve your odds and expected return. Key tips covered in this article are tested by experts and video poker enthusiasts, including myself, and proven effective. Pick one of our recommended legit online casinos and test them out today. Mastering proper strategy takes time but is ultimately very rewarding as your win rate improves.
Jacks or Better Video Poker Strategy FAQs
What Are The Best Online Casinos For Jacks or Better?

Betonline, Wild Casino, Super Slots, and High Roller Casino are the most trusted options for US and international players.

When Should I Hold A 4-Card Straight Or Flush?

Always hold 4 cards to a straight or flush. The high probability of hitting your hand on the draw makes this the right play.

Is It Ever Right To Hold A Single Jack?

No, holding a single Jack is not optimal. You should only hold a Jack if it is paired. Discarding a solo Jack provides greater expected value.

When Should I Break Up A Low Pair?

It's the correct strategy to break up low pairs like 2s, 3s,etc., if you have 4 cards to a royal flush or 4 cards to a straight flush. The chance of a big payout outweighs the pair.
The Best USA Online Casinos of Dec 2023
ONLINE CASINO
WELCOME BONUS
RATING
START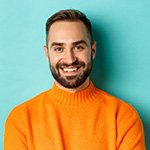 Joe - Poker Player
Join me to introduce you to the fascinating world of betting. From casino reviews to game tutorials and interesting content about sportsbooks
view Profile