What Is Rummy In Blackjack: Is It Worth The Risk?
Date:2023-08-06 Category: Games
Blackjack is a classic card game that has been loved, played, and enjoyed by generations around the world for decades. One unique aspect of the game is its many variations that offer unique twists and challenges, making it even more loveable! One such twist is Rummy, a type of side bet that is similar to 21+3. In this article, we will explore Rummy in Blackjack and provide tips on how to play this exciting side bet of the game and whether it is worth the risk. Whether you are a seasoned blackjack player or a newcomer to the game, placing some side bets would provide a fun and engaging experience.
What Is Rummy Side Bet In Blackjack?
As mentioned above, Rummy in Blackjack is a side bet option available offered by some online and land-based casinos. This side bet turns the gameplay of the card game rummy into hand values with decent payouts. In other words, poker hands are substituted with rummy hands. To win rummy, you need to create a meld(sets of three to four cards with the same rank or suit or sequences) out of your first two cards and the dealer's upcard. Essentially, you want to make a three-of-a-kind, straight, or flush.
House Edge: How Does The Payout For Rummy Side Bet Compare To Other Side Bets In Blackjack?
The rummy side bet is similar to 21+3, only with a lower house edge of around 4.14%.
The payout of this blackjack side bet varies from casino to casino and whether you play online. But generally, if you make a rummy, your bet pays out 9x your initial wager. In other words, the rummy side bet payout is around 9 to 1.
Payouts differ depending on the house, but here is one version: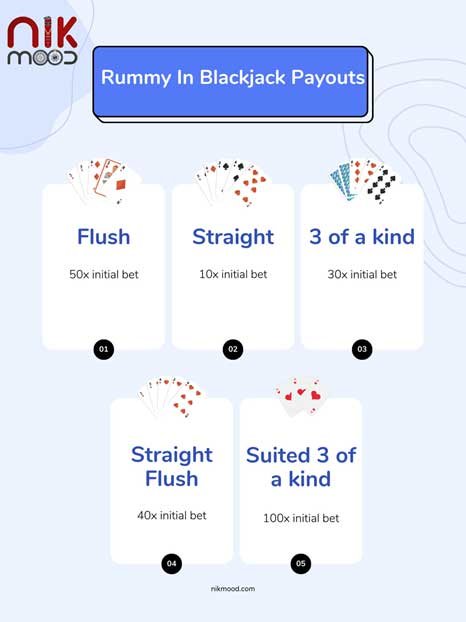 Payouts may seem tempting, but compared to other blackjack side bets, rummy pays out less. For instance, if you land on the top hand, the Super Sevens side bet will pay you 5,000 times your initial bet. Due to relatively lower payouts, players and casinos alike prefer 21+3, which is why rummy's popularity has dwindled. Nonetheless, a few online casinos still offer this wager.
The Best USA Online Casinos of Dec 2023
Are There Strategies To Increase Chances Of Winning Rummy Side Bet In Blackjack?
Yes and no!
Side bets are pretty random, and winning them is largely down to luck. In other words, luck plays the main role in determining the outcome of your bet. Hence, there is not much to do to guarantee a win every time you place a rummy side bet in blackjack(and you shouldn't place this bet every time! Why? Stay with me to find out). Still, there are some tips to help boost your chances of winning.
1. But first, rules!
Before placing a Rummy side bet, ensure you understand the game's rules. Know what constitutes a winning hand and learn the payouts.
2. Don't stick to side bets!
Remember that side bets are meant to be fun. Hence, avoid placing them as the focus of your blackjack strategy. Instead, focus on playing the main game and use side bets as a way to spice things up and have an adrenaline rush!
3. Pick the best odds
Different casinos offer varying payouts for side bets, and Rummy side bets are no exception. Look for casinos that offer favorable odds to increase your chances of winning.
4. Practice, Practice, Practice!
It goes without saying that, as with any form of gambling, practice is key. Try placing Rummy side bet in blackjack in free play mode to get a feel for the game and develop your own strategy.
5. Know your limit
As with any form of gambling, it is important to manage your bankroll, not chase your losses, and set a stop alarm before placing any rummy side bet. Side bets offer tempting payouts, but you could lose big if you cannot stop yourself! So, only bet a small amount because the whole idea is to have more fun, not more loss!!
Rummy Side Bet In Blackjack: Is It Worth The Risk?
The short answer is no, especially if you are a novice blackjack player. Because blackjack side bets are designed to drain your money! These bets, like Rummy, come with a huge house advantage and lower RTPs than the regular blackjack bets. Hence, our pro advice is to stay away from blackjack side bets unless you know what you are doing! That means you keep it small and just try it once or twice to experience the thrill.
Wrap Up
We have covered everything you need to know about Rummy side bet in blackjack. As you have seen, the payouts of this bet seem tempting, but the house advantage alone is enough to keep you away from it! Blackjack side bets add extra thrill and twist to the classic game making it more exciting. Still, you should be aware that your chances of losing a side bet are higher than your chances of winning. So, always play wisely, keep it small, keep reading our guides to learn how to avoid rookie mistakes, and never chase your losses.
May the Flush be with you 😉!
Rummy In Blackjack Frequently Asked Questions
Is Rummy Side Bet And 21+3 The Same Thing?
No. these two side bets are not the same but are pretty similar.
What Are The Best Online Casinos To Play Blackjack?
Betonline, Super Slots, Ignition, Bovada, and Wild Casin are the best US-friendly online casinos to play blackjack.
Do All Casinos Have Similar Rummy Payouts?
No. Side bets' payouts vary across casinos, and Rummy is no exception.
Why Should I Avoid Rummy Side Bet In Blackjack?
Because it has a high house advantage similar to other side bets. It is better to try it just for fun and avoid relying on it as your main playing strategy.
The Best USA Online Casinos of Dec 2023
ONLINE CASINO
WELCOME BONUS
RATING
START
Leo - Researcher / Writer
I am a professional poker player and here I will introduce you the best casinos for betting and learn new things about the world of betting.
view Profile