Sites Like FanDuel , Best Alternatives 2023
Date:2023-03-13 Category: Review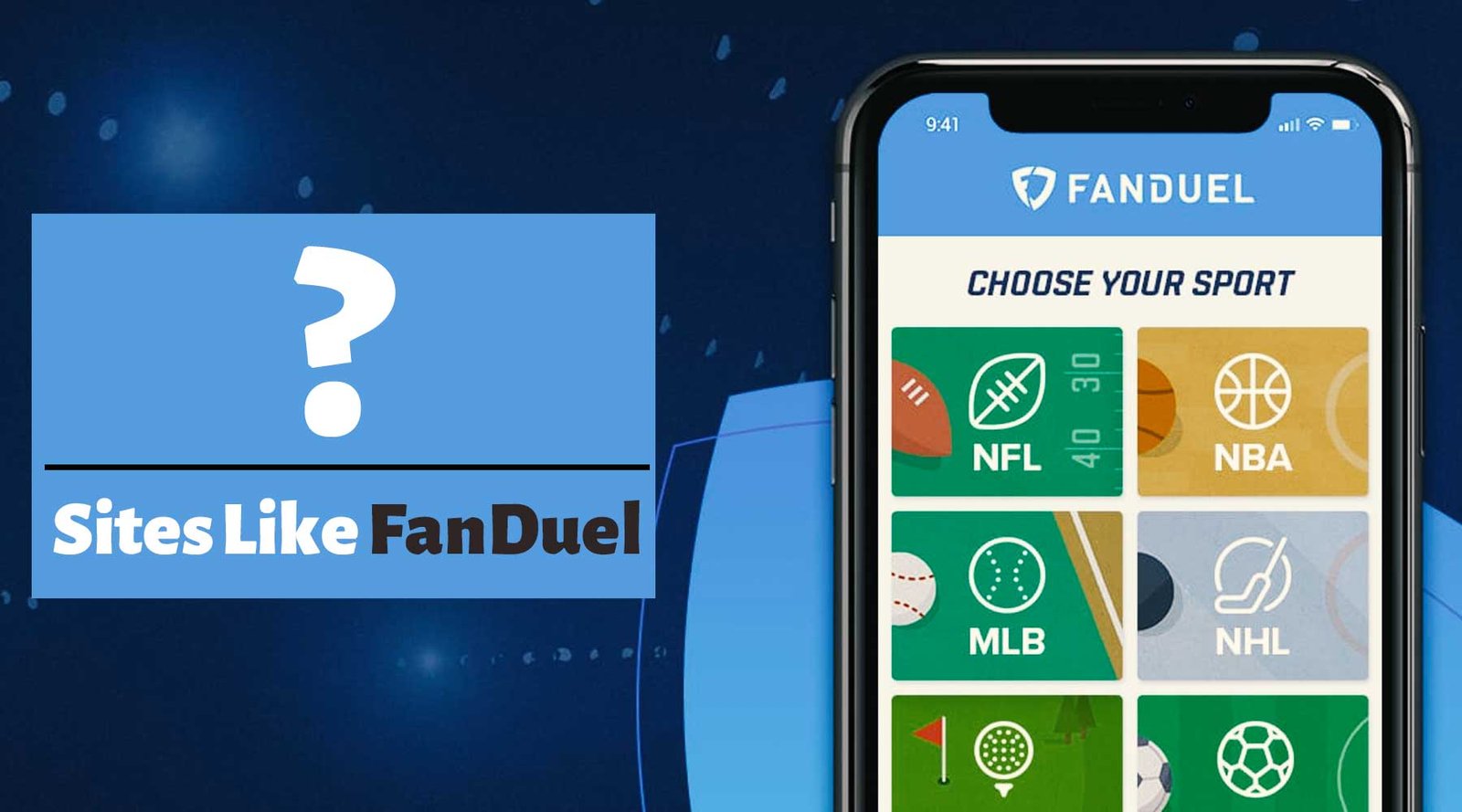 FanDuel started in 2009 and has ever since managed to become the leading Daily Fantasy Sports in the US market. Soon after, rivals like DraftKings jumped right into the market and broke the company's monopoly. Still, FanDuel remained the industry standard that rivals looked up to.
Read on to learn everything about FanDuel and sites like it.
What Is So Unique About FanDuel?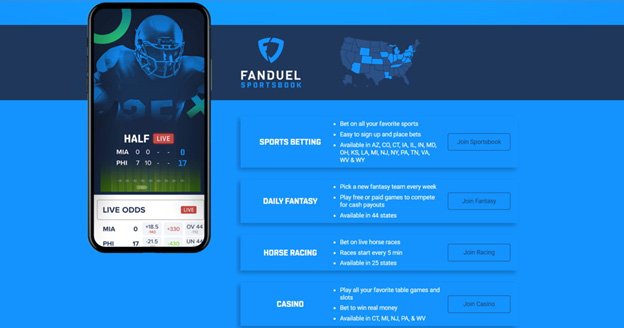 First and foremost, the company is a pioneer in the DFS industry. Since 2009, FD has continuously risen in popularity, and there are valid reasons for that fame boom. The website and app are super user-friendly, compatible, and easy to navigate. Both platforms have smooth, sleek, and fresh layouts; with that calming light blue color, it is impossible to get bored or tired while on FD. FanDuel goes with you wherever you go making it possible to play, bet, have fun, and win real money anywhere, anytime!
Newcomers and loyal members can benefit from FD's generous bonuses and promotions. Offers include welcome packages, reload bonuses, risk-free bets, NO-Sweat first bet, etc.
FanDuel offers extensive lists of sports to wager on, game types and contests to play in, and casino games to try out. You will never become short in betting options at FD. In fact, this is one of few sportsbooks that offer the same game parlays.
So, in short, the answer to the question we started with is, everything about FanDuel is unique!
Top 4 Sites Like FanDuel
Although FD has been the leading sportsbook and Daily Fantasy Sports platform in the US, rivals like DraftKings and others are working hard to win the battle for long-term market supremacy. Below is a review of four credible sites competing with the leader! Let's see what they got!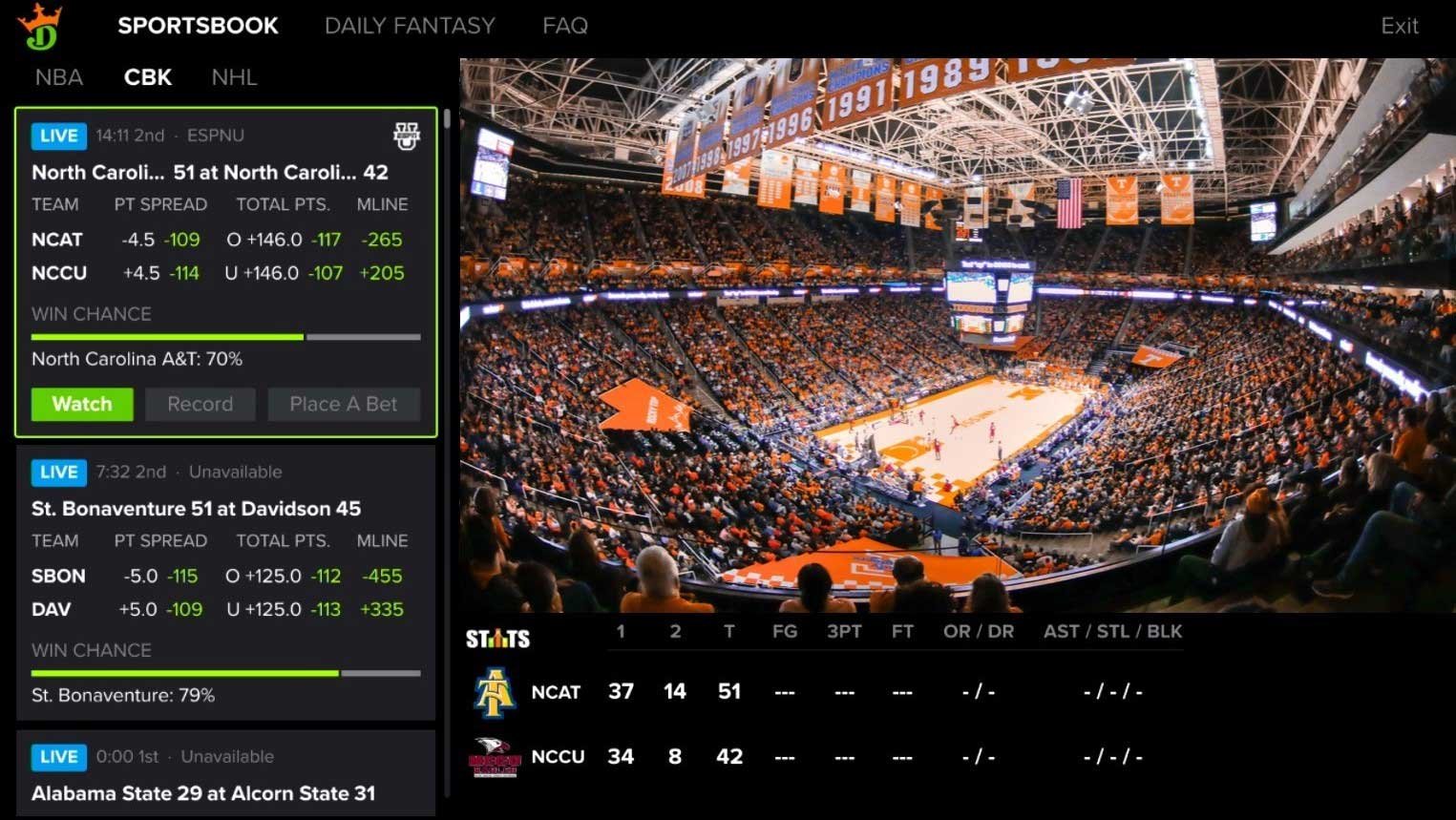 Jason Robins, Matthew Kalish, and Paul Liberman founded and launched the DraftKings gambling website in 2012 in Boston, MA. Soon after, they broke through the market and became one of the most trusted sportsbooks in the US market. They serve sports bettors in 20 US states and a couple of countries. If you live in a US state where online sports betting has not been legalized, join the DraftKings campaign to bring mobile sports betting to your state. Regarding state availability, DraftKings wins the battle as it is available in a couple more states than FD.
Like its rival, DraftKings provides a user-friendly, smooth, easy-to-navigate website and mobile app. Both versions are equally impressive, and you can enjoy all the desktop features on the go, including deposit and withdrawals, live betting, and so forth.
Regarding market depth and sports variety, both websites go head-to-head by offering extensive lists of sporting events and DFS contests. Yet, DraftKings offers two unique markets in an attempt to attract more players, and they nailed it 😉.
DraftKings ReignMakers
This is a pretty modern, new, and unique market in which you can play fantasy sports contests with NFTs you own. In addition, you have the opportunity to buy & sell cards to improve your collection. You can have extra fun in this unique market and win exclusive NFTs, cash, and more.
Marketplace
This is the place for weekly NFT drops, primary & secondary sales, and Flexible custody and decentralization options.
2. BetMGM: Big and Tough
Although BetMGM is better known for its casino gaming, the operators are determined to catch up with the DFS giant, FanDuel, in this crazy gambling industry. In 2018, MGM Resorts International and UK online gaming powerhouse Entain joined and launched the BetMGM gambling website. Soon after, the company started to serve New Jersey bettors before expanding into most states where FanDuel is available.
BetMGM operates with Entain's proprietary technology, an advanced platform compared to its rival. For this reason, shortly after its launch, BetMGM made it to the top ten online sportsbooks along with FanDuel and DraftKings in the US market.
Both betting giants offer dedicated mobile apps, super generous welcome packages, continuous promotions for existing players, extensive lists of sporting events, and more cool stuff. Yet, the downsides to BetMGM compared to FD are:
Lack of fantasy sports and DFS contests
Slower payouts
Fewer odds boosts
Available in fewer US states
The difference is not only in shortcomings, though. BetMGM is better than its rival in the following areas:
Offers a broader selection of wagering options
Offers a loyalty program that allows you to enjoy MGM RESORTS!
Offers more promotions
Provides a wider and better casino games
3. PrizePicks: Place To Pick'em!
This one is quite different than FD and the rest of its rivals. First and foremost, PrizePicks is considered a Daily Fantasy Sports platform, not a sportsbook. In addition, you will not find a slot to spin and win on this website and app. The company is pretty young compared to FD as it was launched in 2015. But it soon became one of the most trusted and popular DFS apps in the US market.
Unlike FanDuel which offers extensive lists of DFS contests and tournaments, PrizePicks focuses on Over/Under Pick'em contests. In such contests, you play against the house, not other players. In fact, the platform is more for betting over/under props than entering traditional DFS contests.
In short, the two rivals are pretty different in what they offer, except that they both are legit, trusted, and great to play at!
4. Underdog Fantasy: Best For Best Ball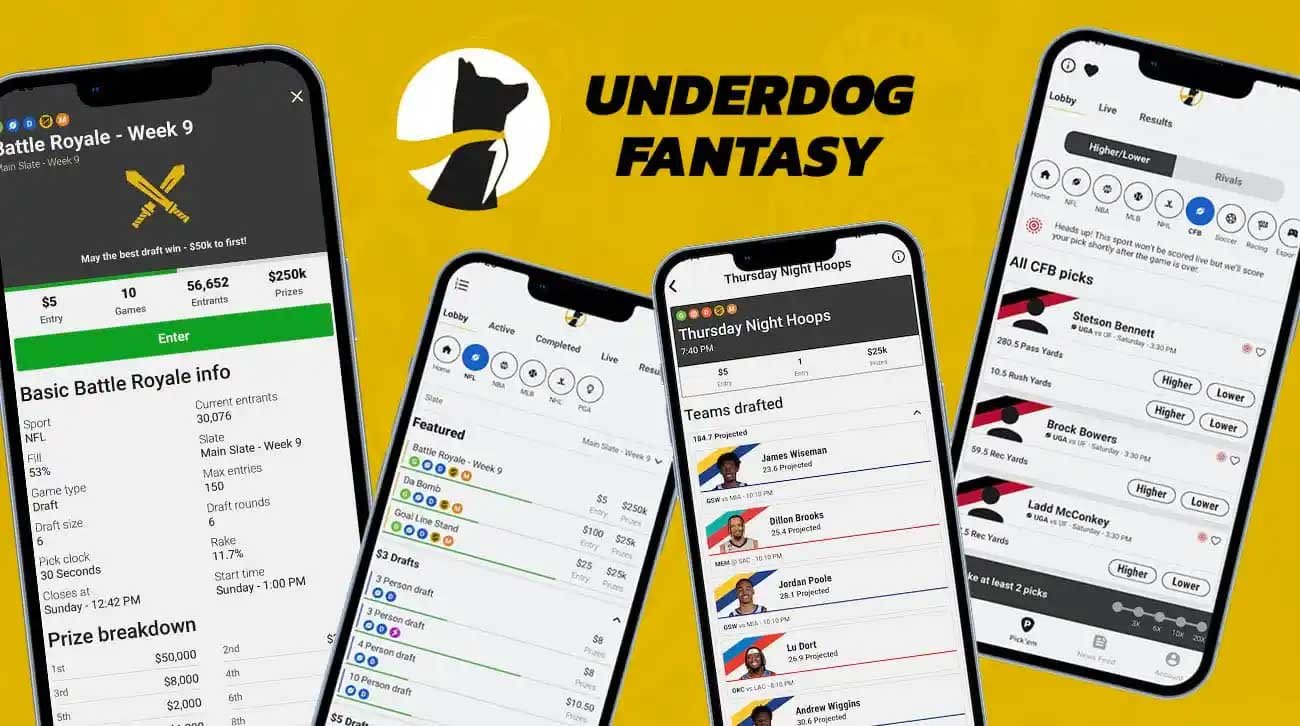 Like PrizePicks, this DFS giant is a Fantasy provider, not an online sportsbook. Although the platform has a long way to catch up with the industry giant, FD, it definitely is the best place for Best Ball contests, at least in some fantasy sports categories.
The website and mobile app are equally great, user-friendly, easy to navigate, and sleek. The good news for Canadian DFS fans is that Underdog Fantasy offers a dedicated android app for players from Canada. Players can make the most of their deposit money by claiming available bonuses and proms. Better yet, under some conditions, they allow you to get your money back to up to $100 if Underdog Fantasy fails to satisfy you with its services.
To Sum It Up
FanDuel is considered the grandpa in the DFS industry. Top brands like DraftKings continuously work to win the battle. But the truth is that the real winner is you, bettors. Why? Because they compete to offer better services to attract and get you hooked. Hence, try to take advantage of their rivalry! Check them all and choose what best works for your betting style and expectations. In fact, all five platforms reviewed in this post are the top riding in the US market. Check them out and let the fun begins.
Sites Like FanDuel FAQs
Is FanDuel only in the US?
No. FanDuel serves other countries. But it restricts its services to some countries.
Does FanDuel pay real money?
Yes, it pays out real money. In fact, it offers competitive odds and fast payouts.
What are the best apps similar to FanDuel?
Go up and read again! Just kidding! The best apps similar to the giant FanDuel are DraftKings, PrizePicks, BetMGM, and Underdog Fantasy.
Does FanDuel allows VPNs to play?
NO, NO, NO. The platform uses sophisticated technology to catch and block VPN attempts. Trust me, it really catches you if you try to get into play using a VPN.
Leo - Researcher / Writer
I am a professional poker player and here I will introduce you the best casinos for betting and learn new things about the world of betting.
view Profile