Live Casino Hold'em , Top Online Casinos 2023
Date:2023-02-26 Category: Review
Casinos make money because people love to play table games. In fact, casinos owe so much to their table game! Players love to play and gamble on classic games like Texas Hold'em, baccarat, roulette, and craps. Now, imagine you can play your favorite table games and gamble for real money on the go. This adds to the thrill of playing, and online casinos allow you to do so. Online casinos generally offer two categories of games: machines and table games. Machine games offer machine-based games such as slots and video poker. Although both classes are fun and have their advantages, online table games offer the best odds of all the games.
Texas Hold'em is the king of table games, and all online casinos offer this popular poker variant. The good news for Hold'em lovers is that top online casinos now offer Live Casino Hold'em. If you want to learn more about live casino Hold'em, just keep reading this article.
What Is A Live Casino and How Does It Work?
As you may have guessed, a casino that allows you to play live is a live casino. In other words, in a live casino that is a type or part of an online casino, a live dealer hosts the games. Live casinos are popular due to the feeling they provide to players because they allow them to feel the experience of playing in a land-based casino. They allow you to feel you are playing in Vegas! Besides, many players like to play from the comfort of their couch but simultaneously have a real-life experience.
Apart from the live dealer element, a live casino's other aspects are similar to the regular online casino.  On the player's end, the live casino interface looks identical to the online casino, where players place their bets by pressing buttons. The big difference between the two is the presence of a live dealer who can interact with you to create a more social atmosphere. In addition, instead of a random number generator, the dealer controls the game using an actual roulette wheel, deck of cards, etc.
What Is The Live Casino Hold'em?
As you may know, classic Texas Hold'em puts you against other players, and a full table of hold'em has room for nine to ten players. On the other hand, casino Hold'em puts you only against the dealer. Another difference is in the forced bets. Casino Hold'em uses ante bets for each hand, while in classic Texas Hold'em players should place blinds(big and small) before any cards are dealt.
In fact, casino hold'em was designed as a practice tool for the king, Texas Hold'em. But soon after, it became such a hit that most of the top live casinos and online gambling sites decided to offer it in some form or another.
Good Stuff About Online Live Casino Hold'em
Playing online live Casino Hold'em is fun, but it also has advantages like:
💻You can play & win from anywhere with games available on desktop, mobile, and tablets.
💲Low limit and high-rollers can find a wide range of betting options.
😎Professional live dealers add to your real-life casino experience.
💸The house edge is only about 2%. This is better than most table games.
🗣 Chat function allows you to socialize with other players and the live dealer.
Live Dealer Casino Hold'em Game Interface
in a live dealer casino, games, including casino Hold'em stream in HD from the studio to your desktop browser or mobile app. The quality of the visuals allows you to feel you are playing in Vegas or a real casino. The chat function will enable you to socialize and ask your questions. Playing with real cards and having an actual professional dealer makes your gambling experience memorable.
How To Play Live Dealer Casino Hold'em Step By Step
1️⃣Pick any of our trusted recommended online casinos, sign up, and claim your welcome bonus.
2️⃣Carefully read the rules, terms, and conditions.
3️⃣ Fund your account using a safe and secure banking method.
4️⃣Navigate to the live casino or live dealer area and select your favorite game to play, say casino Hold'em.
5️⃣Follow the dealer's instructions to enjoy your first round of live dealer casino Hold'em.
How To Play Live Casino Hold'em For Real Money?
As I have said, casino hold'em puts you against the dealer who uses a standard 52-card deck to play. With every hand, the chards change and shuffle.
Every poker hand has a preset value, and the best hand is the winner of the game. The objective of hold'em is to have the best poker hand using your pocket cards and community cards. The winner will get the highest payout.
Here is a summary for playing live Casino Hold'em:
1️⃣Before any cards are dealt by the dealer, you should place an Ante or forced bet. This is an equal amount of money or chips players put into the pot to start the game.
2️⃣After community cards are dealt, you place your call bet.
3️⃣Before the dealer deals the two last cards, you can fold or place another call bet hoping to beat the dealer's hand.
4️⃣After the dealer deals the last two cards, the person with the best 5-card poker hand will be announced the winner.
Casino Hold'em Basic Rules Recall
As I have said in the previous section, every round of live casino hold'em starts with a forced bet or an ante. After placing antes, the dealer passes out the hole or pocket cards and the first three community cards. After that is the time to decide whether to call or fold.
📢 To call means you should place twice your ante on the table. After you call, the dealer reveals two more community cards.
🏳To fold means you give up your ante bet, and the hand is over for you. Knowing the right time to fold will minimize your losses.
Strategy To Play Live Casino Hold'em
You can keep the house edge down around 2% if you use the best live casino hold'em strategy. The following recommendations are based on mathematics and the odds of winning a round using a specific combination of cards. You should play sensibly and do your best to beat the casino advantage. So, your best bet requires you to follow some simple rules while calling and folding.
Call when:
✅You have a pair
✅You need one more card to get a straight or flush.
✅You have an ace or king high.
✅There are two overcards to the flop.
Fold when:
🏳There is a paired board with no 10 high.
🏳You have no aces or kings.
🏳You miss on the flop.
🏳You have no overcards in the hole.
Best Online Casinos To Play Live Casino Hold'em
The following table represents the top US-friendly online casinos where you can play live dealer casino hold'em for real money. All of them are legit, trusted, and of world-class quality. USA players can find tables with betting limits ranging from $5 to $5,000 at these online casino sites.
| | | | | | |
| --- | --- | --- | --- | --- | --- |
| Rank | Live Casino | Min Bet | Max Bet | Platforms | Types of Games |
| 1 | Betonline | $1 | $500 | iPhone, Android, Windows | Roulette, Blackjack, Baccarat, |
| 2 | Wild Casino | $1 | $500 | iPhone, Android, Windows | Roulette,Blackjack, Baccarat, |
| 3 | Super Slots | $1 | $500 | iPhone, Android, Windows | Blackjack, baccarat, roulette |
| 4 | Sports Betting | $5 | $5,000 | iPhone, Android, Windows | Blackjack, baccarat, roulette |
To Sum It Up
As we all know, poker is fun, and the king, Texas Hold'em is much more fun. For the reasons I mentioned above, live Hold'em poker is even more fun. Although some people still like the physical atmosphere of the game, playing online with a live dealer is not much of a difference. If you have not tried it before, I suggest signing up today and enjoying real-time hold'em!
read more:
Free Online Poker Games With Fake Money
Most Common Poker Tells To Be Mindful Of
How To Play Poker Online For Real Money?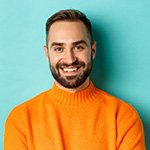 Joe - Poker Player
Join me to introduce you to the fascinating world of betting. From casino reviews to game tutorials and interesting content about sportsbooks
view Profile