Iran World Cup 2022 squad
Date:2022-12-03 Category: Sportsbooks
Iran World Cup 2022 squad
Iran's football team manager, Carlos Queiroz, at the latest hours of November 17th, announced a controversial squad for the 2022 world cup. Making the fifth appearance at this tournament, Iran faces many issues within its border, and these matters may strongly affect the outcome of the games. Before the start of the World Cup, as a result of national protest and the death of Iranians, many human rights activist was trying to ban Iran from attending this tournament. Besides that, since Iran changed its head coach 30 days before the World Cup, it needed more time to prepare and adjust itself. Considering all of these, experts believe that even though Iran has a decent group-stage draw; however, it can not make it to the knockouts and will head back to Iran after the game with the USA.
Iran's protests and World Cup 2022
After the death of a Kurdish girl by Iran's morality police, the uprising of Iranians affected all sports. Many athletes attended their games with black armbands, or even women removed their scarf. Just before traveling to Doha, Iran's national team members held a meeting with Iran's president in which they bowed to the president and asked for prizes. Iranians who are fighting on the streets with police and Militia, called Basij, got frustrated and called players dishonorable national team members. After this meeting, many Iranians sanctioned their national and announced they would not even watch the games. Considering these issues, Iran's national team is now facing a lot of pressure from the government and citizens.
The oldest squad in the world cup
Carlos Queiroz, widely known for working with young and energetic players this time, made a very controversial decision and sent the oldest squad to the world cup. Iran has very balanced and experienced defensive players who participated in Russia 2018 as well. Iran's offensive forces rely on Porto star Mehdi Taremi and Bayer Leverkusen forward Sardar Azmoun. The statistics show that these two players are the best strikers Iran possesses after the retirement of Ali Daei and Khodad Azizi.
The real problem in the Iran squad is the retirement of top-notch players, such as Omid Ebrahimi and Masoud Shojaei. These two players could reduce the defense pressure and also had creative skills to manage a counterattack in a second. The lack of creativity and solely considering the defensive abilities of players can reduce Iran's chance of creating a goal. Now we have a close look at Iran's squad, and then we analyze the team's most important players.
 GK: Alireza Beiranvand (Persepolis)
GK: Hossein Hosseini (Esteghlal)
GK: Amir Abedzadeh (Ponferradina)
GK: Payam Niazmand (Sepahan)
DF: Ehsan Hajsafi (AEK Athens)
DF: Morteza Pouraliganji (Persepolis)
DF: Ramin Rezaeian (Sepahan)
DF: Milad Mohammadi (AEK Athens)
DF: Shojae Khalilzadeh (Al-Ahli)
DF: Hossein Kanaanizadegan (Al-Ahli)
DF: Sadegh Moharrami (Dinamo Zagreb)
DF: Majid Hosseini (Kayserispor)
DF: Rouzbeh Cheshmi (Esteghlal)
DF: Abolfazl Jalali (Esteghlal)
MF: Vahid Amiri (Persepolis)
MF: Saeid Ezatolahi (Vejle)
MF: Mehdi Torabi (Persepolis)
MF: Saman Ghoddos (Brentford)
MF: Ali Gholizadeh (Charleroi)
MF: Ahmad Nourollahi (Shabab Al Ahli)
MF: Ali Karimi (Kayserispor)
FW: Alireza Jahanbakhsh (Feyenoord)
FW: Mehdi Taremi (Porto)
FW: Karim Ansarifard (Omonia)
FW: Sardar Azmoun (Bayer Leverkusen)
Alireza Beiranvand
Without a doubt, the first choice of Carlos Queiroz for the Goalkeeper is Alireza Beiranvand, who was one of the key players in the last World Cup. Beiranvand is mainly known for saving Cristiano Ronaldo's penalty and is also very good at saving distance shots. Alireza named himself in the Guinness world record when he recorded the longest throw in a football match with a 61-meter throw in a game vs. South Korea.
Morteza Pouraliganji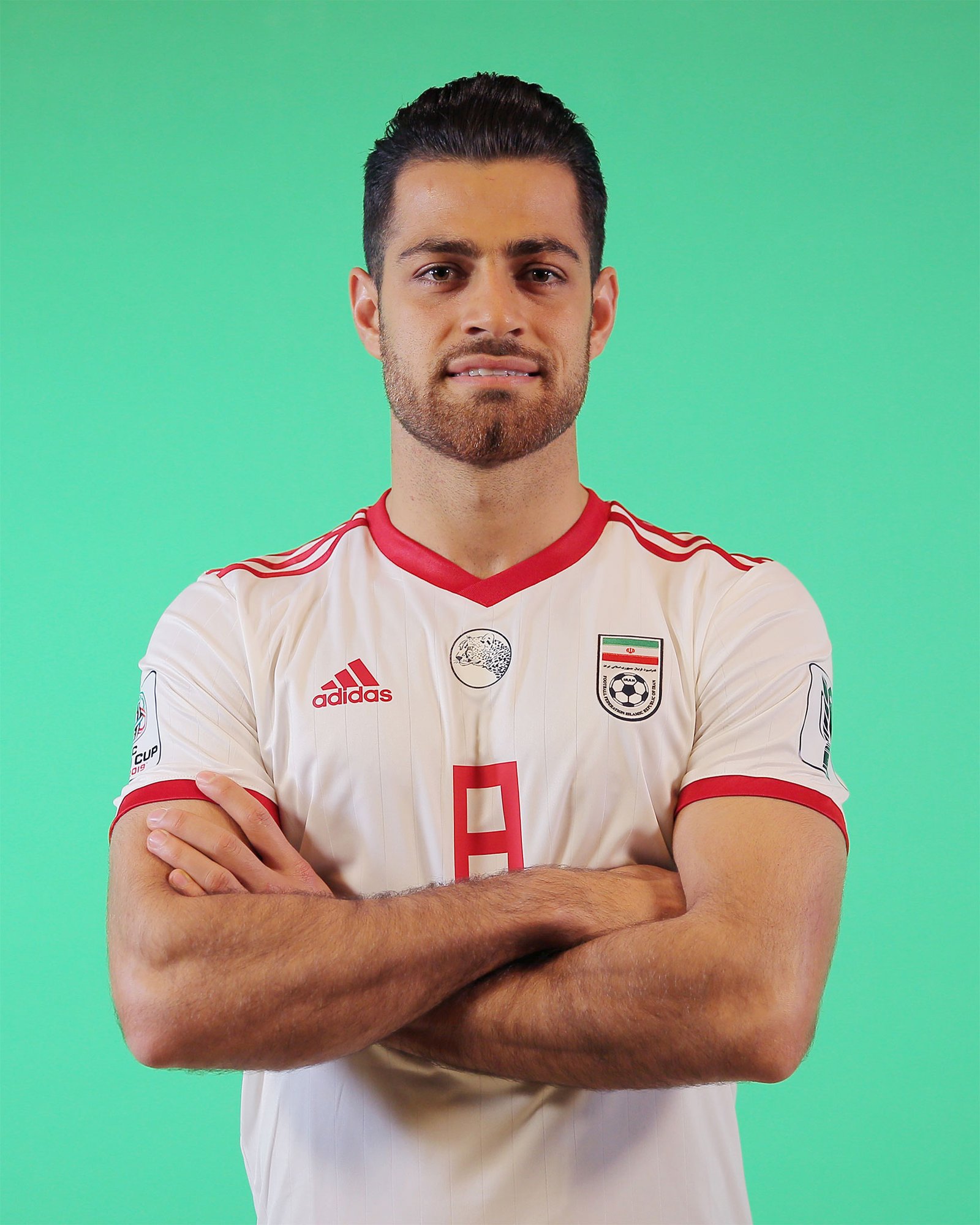 One of Iran's best defensive players over the last 20 years is Morteza Pouraliganji. He played most of his career in China and Arabian teams such as Al Sadd; however, now he plays for the most well-known Iranian club Persepolis. Morteza was one of the leading players that could stop Ronaldo in the last world cup and is considered one of Iran's most ethical players.
Ramin Rezaeian
  Carlos Queiroz's favorite player for the right back, who has attacking and defensive skills, is Ramin Rezaeian. Ramin has experience playing for European and successful Asian clubs. Even though many experts disapprove of his off-field problems, he can contribute much to the game.
Rouzbeh Cheshmi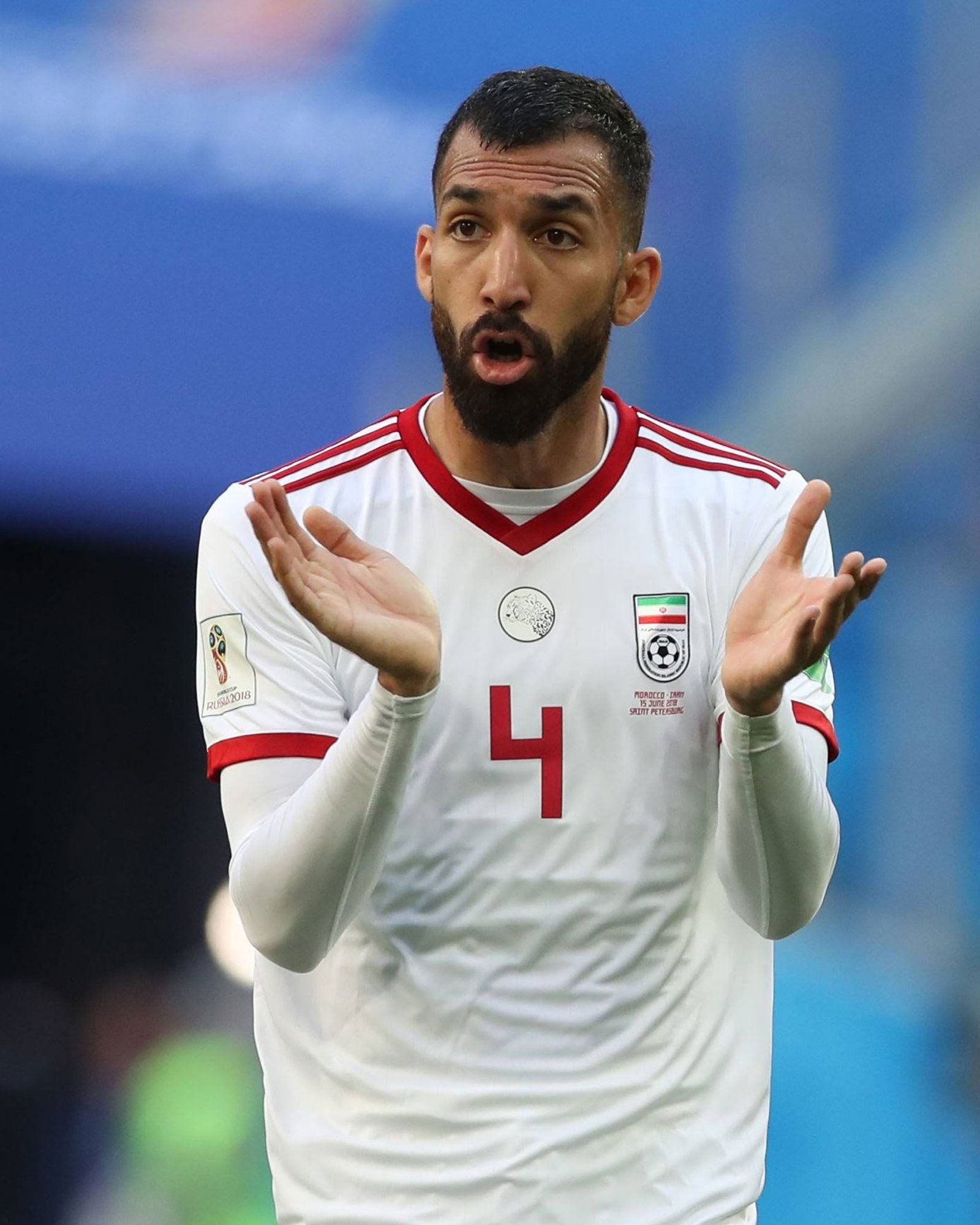 Rouzbeh Cheshmi is One of the best defensive players we also saw in action in Russia. Chesmi can play in two defensive posts as a central defender and defensive midfielder, making him a good asset for Carlos Queiroz. He can switch the formation to 3-5-2 in a second and contribute to freekicks.
Saeid Ezatolahi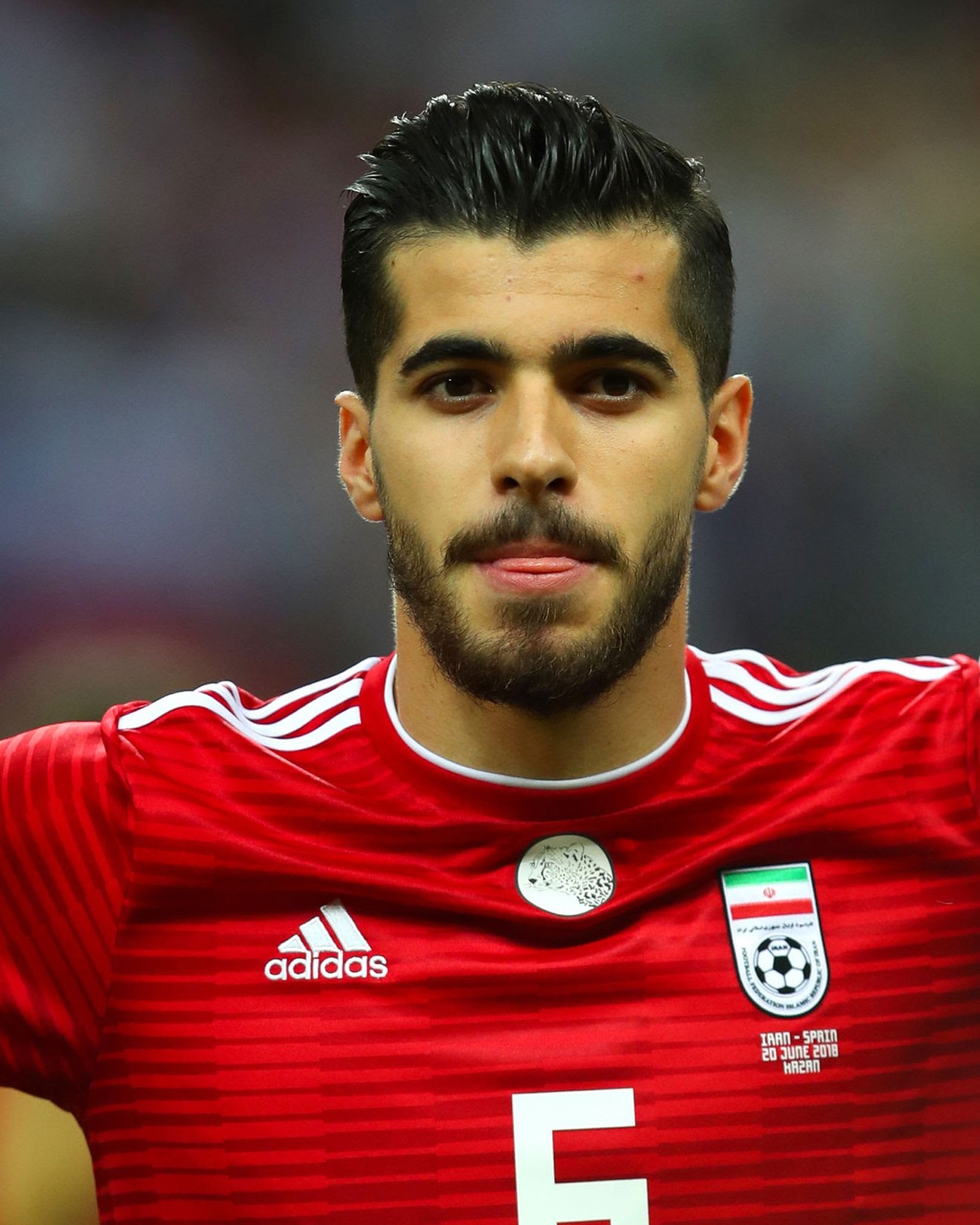 Saeid Ezatolahi Afagh is the best defensive midfielder that Iran has after the retirement of Javad Nekounam. Saeid is now playing for the Vejle; however, he also has experience playing for Atletico Madrid. He played all his career outside of Iran and is consistent with players such as Taremi and Jahanbaksh.
Ali Gholizadeh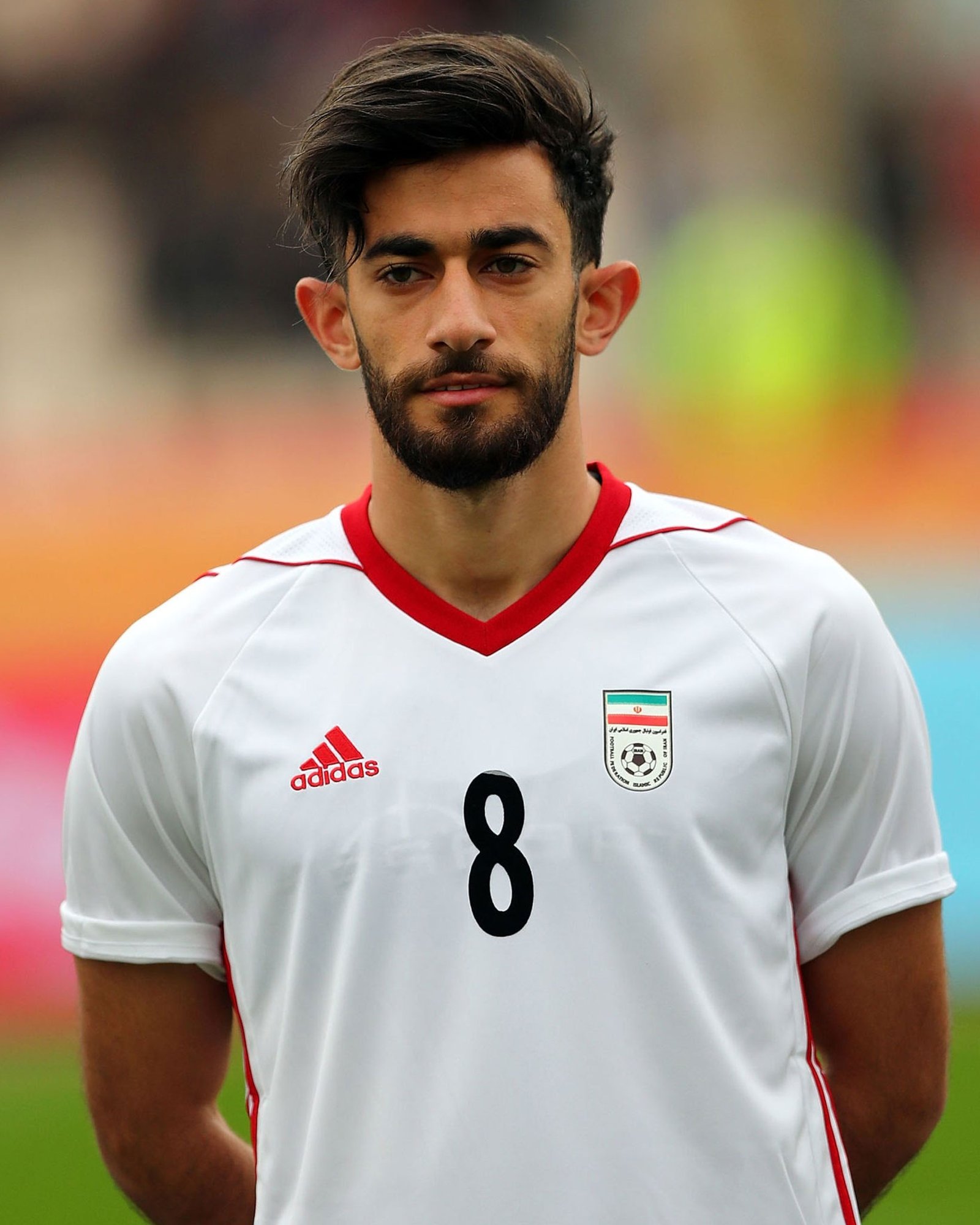 One of the most skillful wingers in Iran now playing for Belgium club Charleroi is Gholizadeh. His playing style is like Lionel Messi, which is why he calls himself Iran's Messi. He plays in the right wing and has excellent passing and shooting abilities. Over the last few years, he has improved his skills, and now he can dribble his opponents even when he is in the box.
Ahmad Nourollahi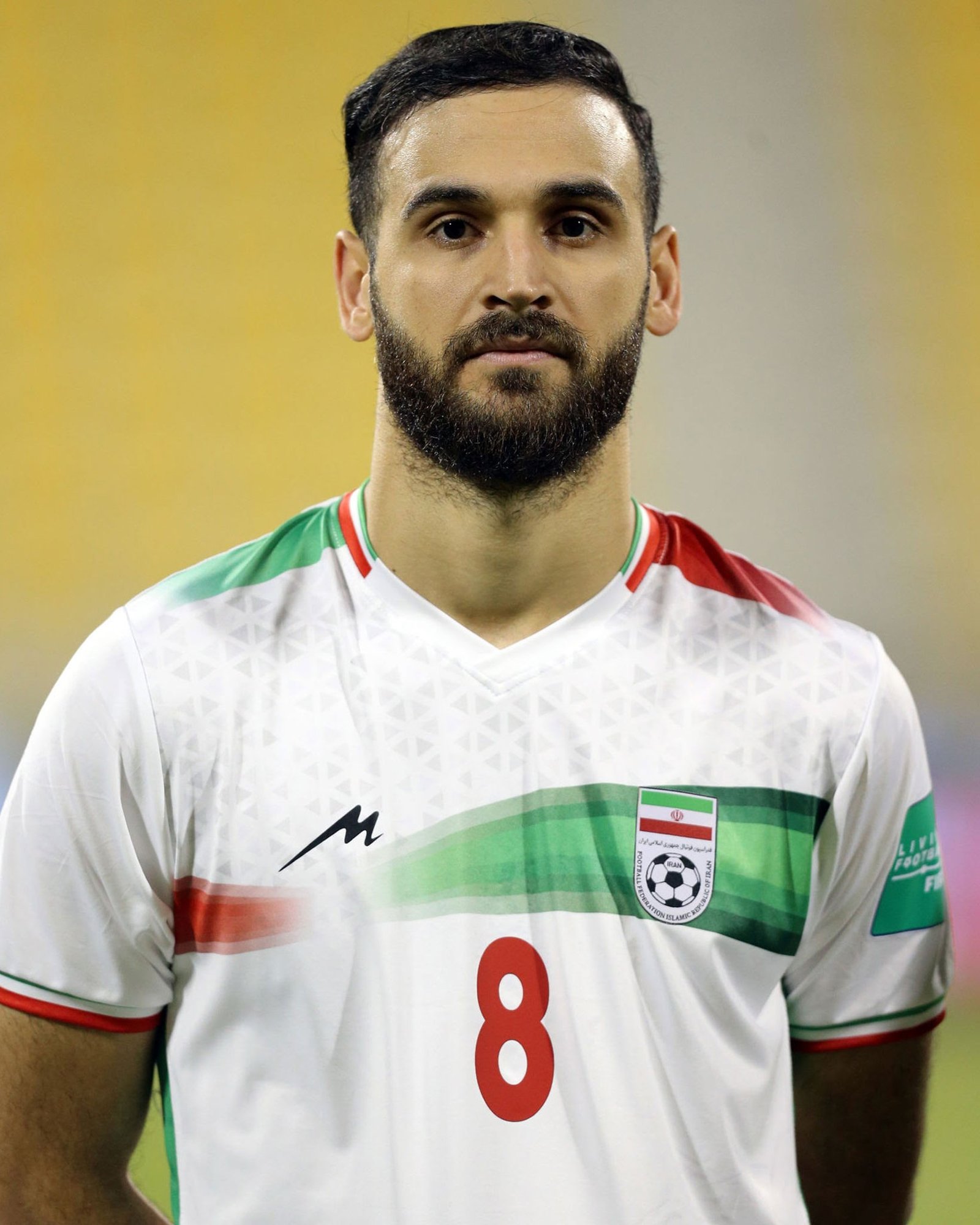 Ahmad Nourollahi is one of the key players that can turn the game around and should link the defense to the attack. He plays a vital role in counterattacks and should feed players with crucial passes. His central ability is sending deep passes behind the defenses and create 1 to 1 chances for attackers.
Alireza Jahanbakhsh
Jahanbakhsh is Brighton & Hove Albion's most expensive player and twice won the Dutch league's golden boot with AZ Alkmaar. For over one decade, he was considered the most talented Iranian football player after Ali Karimi. The current Fc. Feyenoord player is a crucial element in the success of the Iran national team. Many football lovers remember Alireza for his goal to Chelsea; however, he has excellent shots behind the box and can feed forwards with critical crosses.
Mehdi Taremi 
Mehdi Taremi, alongside Son Heung-min, is the most gifted player in Asia. Many consider him one of the best strikers in Europe. Taremi is now playing for Porto, the club's leading scorer, and is among the best strikers in the champions league. Experts believe Taremi is known chiefly for gaining penalties, and his finishing skills can change the game at critical moments. Iranians hope he will become one of the shining stars of this World Cup.
Sardar Azmoun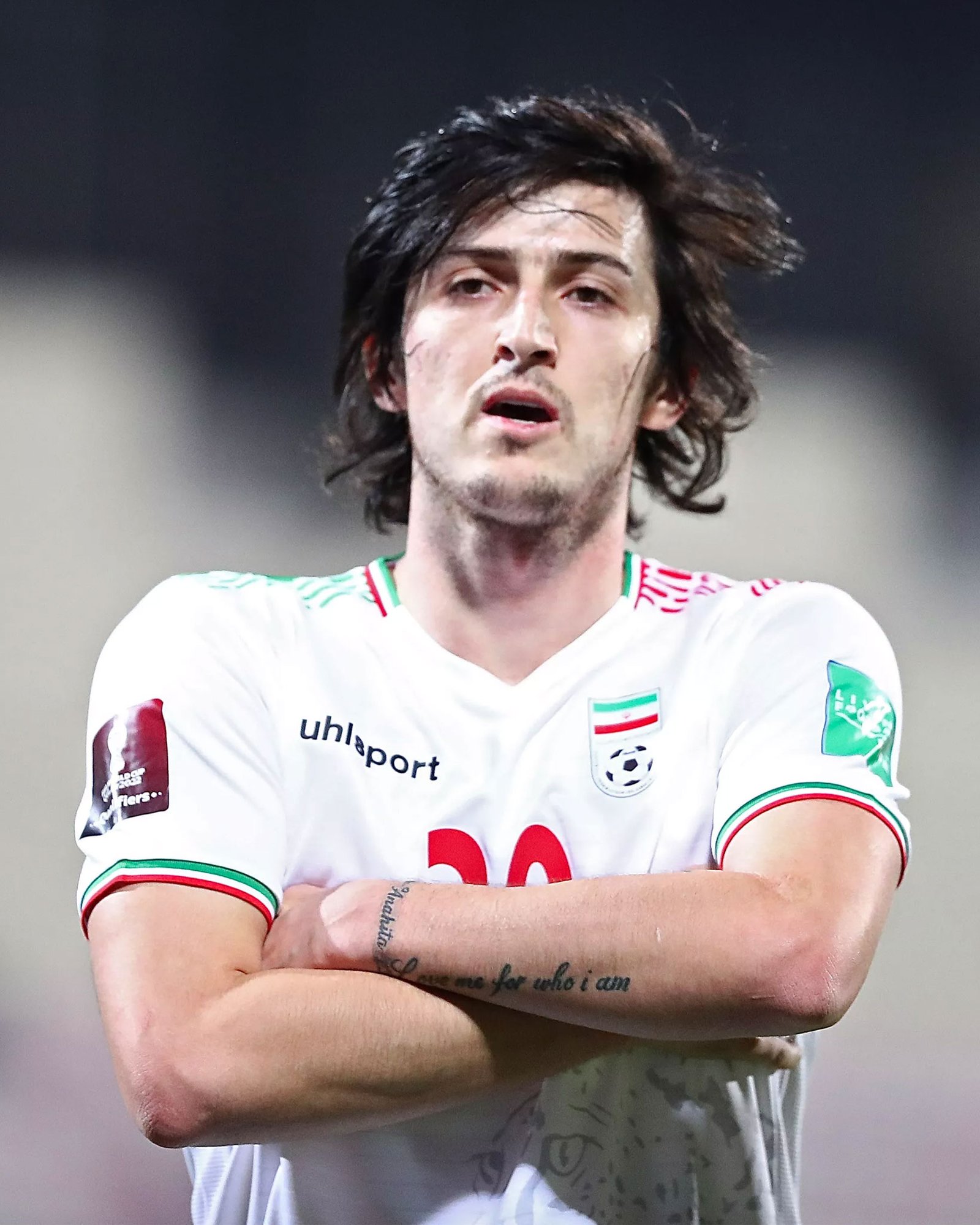 The best striker in the Russian First League for four consecutive years, he quit playing for Zenit due to off-field problems and transferred to Bayer 04 Leverkusen. Sardar has been one of the best strikers in Iran over the last decades and has always been considered a suitable replacement for strikers such as Daei and Hashemian.
Leo - Researcher / Writer
I am a professional poker player and here I will introduce you the best casinos for betting and learn new things about the world of betting.
view Profile