Alternative Lines in Sports Betting
Date:2023-11-07 Category: Sportsbooks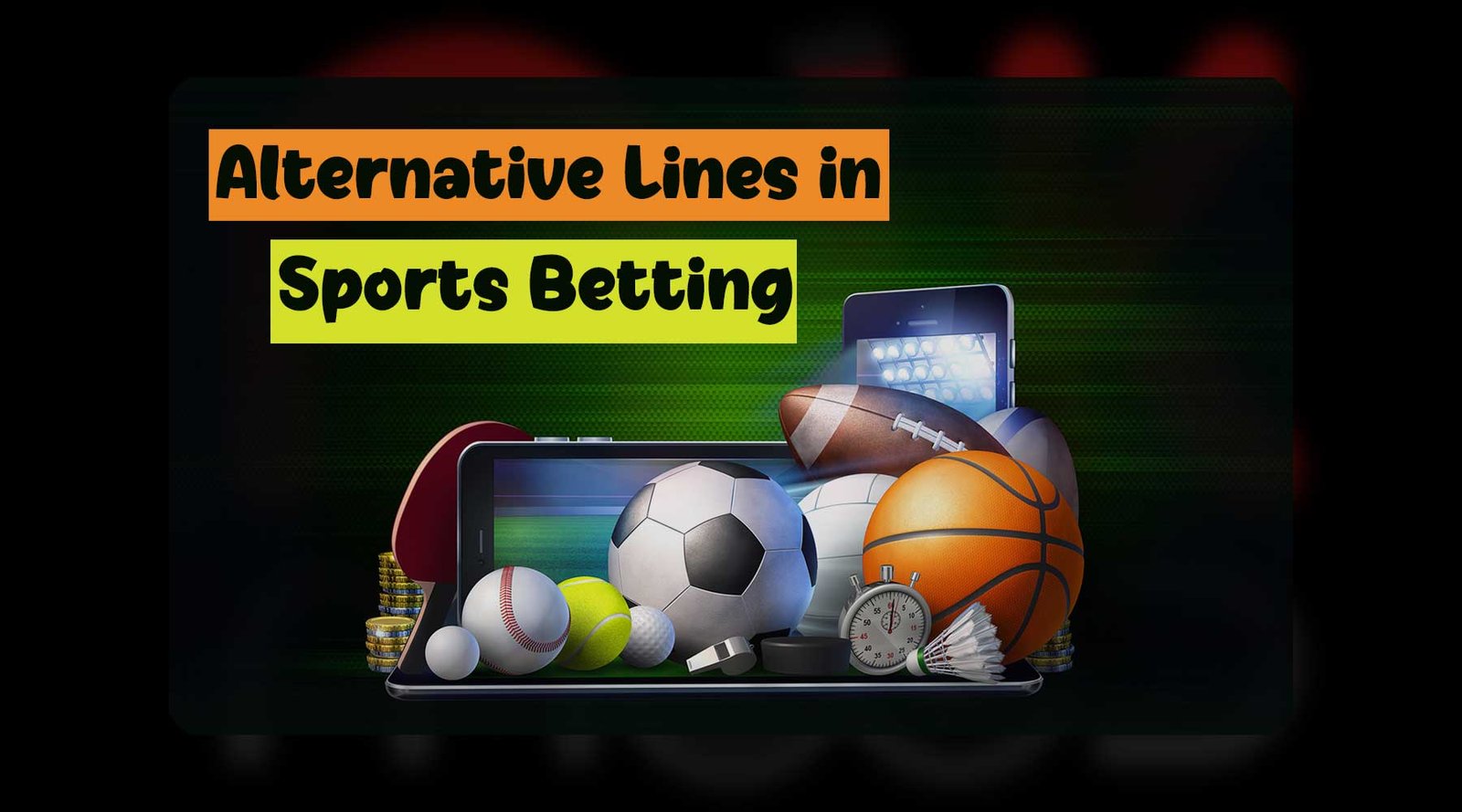 The thrill of victory, the agony of defeat – sports betting adds a whole new dimension to being a fan. While traditional betting lines offer simplicity, Alternative lines allow more seasoned gamblers to fine-tune their wagers. This guide will explore Alternative lines, how they work, the various types, and strategies to leverage them profitably. Whether you're a betting novice or a seasoned sharp, understanding Alternative lines and how Alternative points work can take your sports betting to the next level. The risks may be higher, but so are the potential rewards.
Alternate Lines/Points Made Simple: What Are They?
Alt lines or Alt points refer to additional betting options for a given outcome. Alternative lines give bettors more flexibility on wagers. With these lines, you can choose a different line than the main line set by the sportsbook. For example, at FanDuel Sportsbook, a football game might have a main point spread of -7 points for Team A. But you could choose an Alternative line of -3 points for Team A instead. The vig, or commission you pay, gets adjusted based on the Alternative line. The vig goes up if you take points in favor of the team and goes down if you take points against the favored team's main line. So, Alternative lines allow you to customize bets based on your preferences. The tradeoff is higher or lower vig fees compared to the standard line set by the sportsbook.
3 Popular Types of Alt Lines and How They Work
Alternative lines in sports betting allow punters to choose from options that differ from the standard point spread or Moneyline odds offered on a game. They allow bettors more flexibility and control over the odds and payouts. Sportsbooks offer Alt lines for various markets, including but not limited to point spreads, totals(over/under), Moneylines, team and player props, teasers, and parlays. Let's review three more popular Alternate lines in detail.
1. Spread Points Alt Lines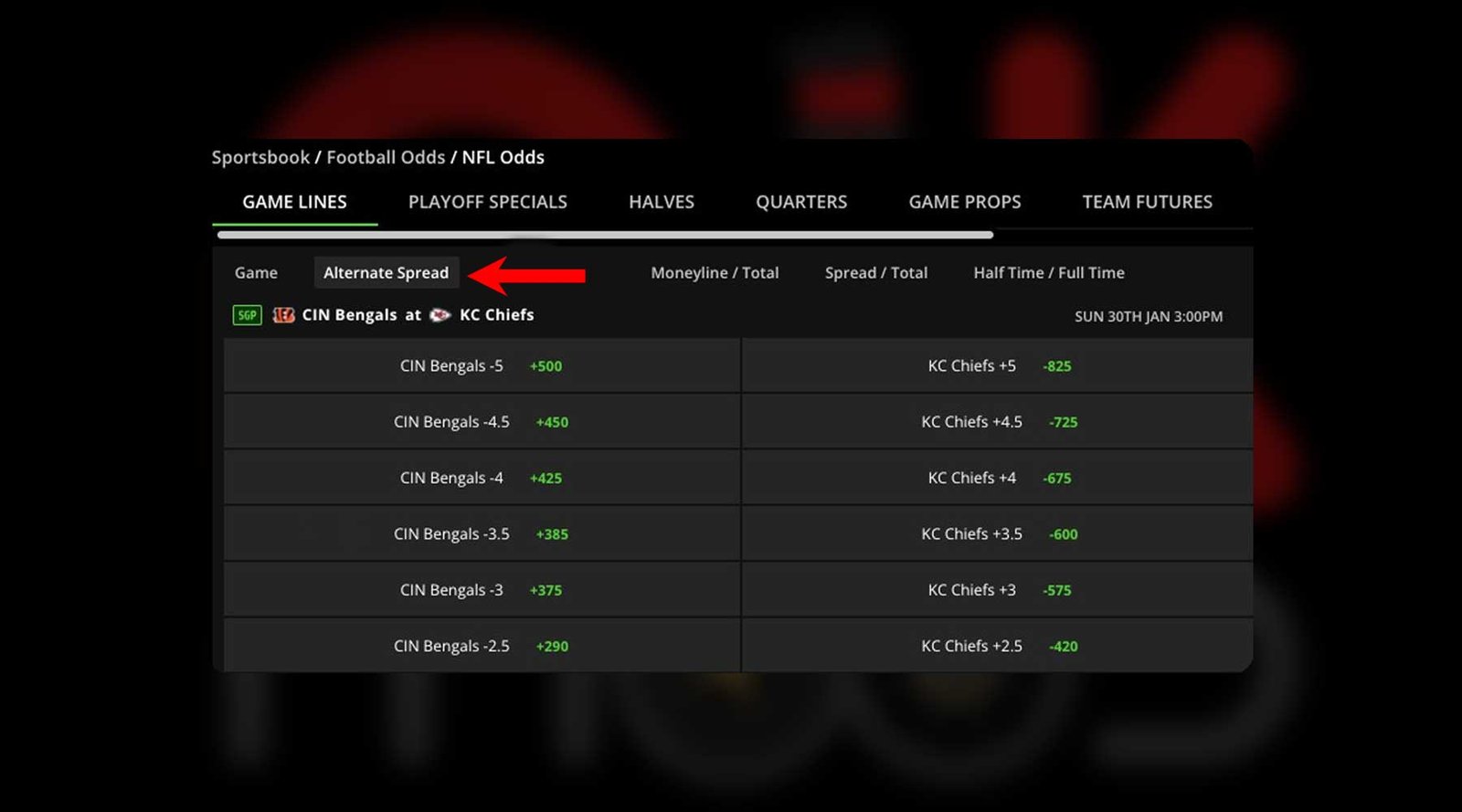 Point spread betting is placing wagers based on a set margin of victory. Sportsbooks predict how much a favored team will win by. Bettors can then bet on the favorite covering that spread or the underdog losing by less. Alternative point spreads take this concept further. They allow adjusting the set spread to be higher or lower. For example, the main point spread may be -7 points for Team A. An Alternative line could let you bet on Team A -10 points instead. So you can customize the exact point spread you want. Alternative lines mean you can increase or decrease the built-in margin from the original spread. It provides more options for strategic betting.
2. Totals Alt Lines
Over/under betting is wagering on whether the combined point total of both teams in a game goes above or below a set number by the sportsbook. Sportsbooks set a projected combined point total line. Bettors can wager whether the actual points will be over or under that set amount. Alternative totals take this a step further. They allow you to bet on a custom over/under line that is higher or lower than the main total set by the book. For example, the sportsbook may set a total of 48 points for a game. But with Alternative totals, you could bet on a total of 42 points instead. So, rather than just the standard over/under line, Alternative totals give you more control to pick the exact total you want to bet on. It provides additional betting options by modifying the predicted point totals. Let's review an actual NFL example from DraftKings:
Team
Spread
Moneyline
Total
Dallas Cowboys
-4

-110

-190
O 48

-110

Washington Commanders
+4

-110

+160
U 48

-110
The table shows that the standard over/under bet requires a $110 wager to profit $100 on 48 total points. Alternative totals allow betting on different scenarios according to the following table:
Alternate Lines
Over 36                                                           -770
Under                                                                      +450
Over 38.5                                                       -480
Under                                                                      +310
Over 40                                                          -400
Under                                                                      +265
Over 42.5                                                       -275
Under                                                                      +200
Over 43                                                          -265
Under                                                                      +188
Over 43.5                                                       -230
Under                                                                      +170
Over 45                                                           -186
Under                                                                      +145
Over 47.5                                                        -134
Under                                                                      +108
Over 51.5                                                        +118
Under                                                                      -148
Over 54                                                          +150
Under                                                                      -200
Let's use an example from the second table. You could place a wager on an Alt total of 40 points. Betting an Alternative total of under 40 points would pay $200 on a $100 wager. Going over 40 points requires a $400 bet to profit $100.
The Best USA Online Casinos of Dec 2023
3. Props Alt Lines
Alternative point proposition bets have become more popular recently. These special wagers focus on player or team achievements during the game itself rather than just the final outcome. These special bets zero in on player or team accomplishments during the match itself. Common examples are betting on whether a player will score above or below a set point total. Or whether a quarterback passes for more or less yards than a benchmark number. Sportsbooks like FanDuel and DraftKings set these prop lines before games. The props can cover almost any in-game event or achievement imaginable. They allow fans to bet on the game within the game, going beyond just picking a winner or loser. Prop bets add excitement and allow more strategic betting around key player and team milestones during the action.
Let's review NFL player prop bet using Alternative lines:
Take Kansas City Chiefs quarterback Patrick Mahomes. A sportsbook offers a prop line on his total passing yards for an upcoming game. The main prop may be set at over/under 300 passing yards. You can wager $110 to win $100 on whether Mahomes goes over or under 300 yards.
Alternative prop lines provide more options here. These let you bet on other yardage totals above or below 300 yards. For instance, Alternative totals could be set at:
Over/Under 290 passing yards
Over/Under 280 passing yards
And so on at different intervals above or below 300 yards. Each Alternative line will have adjusted odds to reflect the higher or lower yardage total. It gives you complete flexibility in choosing passing yard totals to wager on. The payout odds shift accordingly based on how much the line moves from the original 300-yard benchmark.
10 Tips To Avoid Rookie Mistakes While Placing Alt Line Bets
Here are tips and strategies to help you make better decisions when deciding to place Alternate Lines Bets.
Shop around for the best alt lines and odds at different sportsbooks. Lines and vig can vary significantly.
Consider teaser bets that allow you to adjust both the spread and total lines to get more favorable numbers.
Use Alternative totals to increase or decrease over/unders to your comfort level. A higher over/under can have longer odds.
Study key player and matchup stats to identify Alternative lines with value. A QB may consistently go over his passing yards total.
Use Alt lines for safer legs to lower risk and improve the overall payout odds in parlays.
Be careful about making too many adjustments. The more Alt lines you take, the more risk you incur.
Have a betting budget and stick to it. Don't chase losses by taking risky Alt lines you aren't confident in.
Shop for the best odds and line value; don't just assume the Alt line guarantees a win.
Be aware that adjusting the line too far can offer attractive odds but also very high risk.
Use Alt lines sparingly to enhance standard bets, not as a primary betting approach.
Wrap Up
For seasoned sports bettors, Alternative lines open up a whole new world of wagering opportunities beyond standard bets. By adjusting point spreads, totals, and prop lines, you can customize bets to suit your strategy. But with great power comes great responsibility. While Alt lines allow you to turbocharge your betting action, they also amplify risk. The key is finding overlays – situations where the adjusted line offers inherent value compared to the main odds. It takes work to identify mismatches between the true probabilities and the presented odds.
Mastering Alternative lines requires research, discipline, and bankroll management. Just be strategic in crafting bets with built-in value, and avoid being seduced by long odds into making foolish wagers. Used selectively and intelligently, Alt lines give an experienced bettor the tools to amplify their winnings.
Alternative Points On Sportsbet FAQs
Why Would I Want To Use Alternative Point Spreads?

The main reasons are to get a more favorable line or odds on the team you want to bet on or to reduce the risk on a heavy favorite by buying points down.

What Are The Benefits Of Alternative Point Spreads?

Benefits are more betting flexibility, the ability to adjust risk levels, and the potential for higher payouts if you pick the right spread adjustment.

What Are The Best Online Sportsbooks For Alternative Line Betting?

FanDuel, DraftKings, and Betonline are the top three best online sportsbooks to shop around for the best Alt lines.

How Do I Research To Find The Best Alternative Point Spread Options?

Key factors are team/matchup histories, statistical trends, injuries, and line movements to find spreads with the most value and lowest risk.
The Best USA Online Casinos of Dec 2023
ONLINE CASINO
WELCOME BONUS
RATING
START
Leo - Researcher / Writer
I am a professional poker player and here I will introduce you the best casinos for betting and learn new things about the world of betting.
view Profile