How To Play Let It Ride Online For Real Money
Date:2023-05-31 Category: Games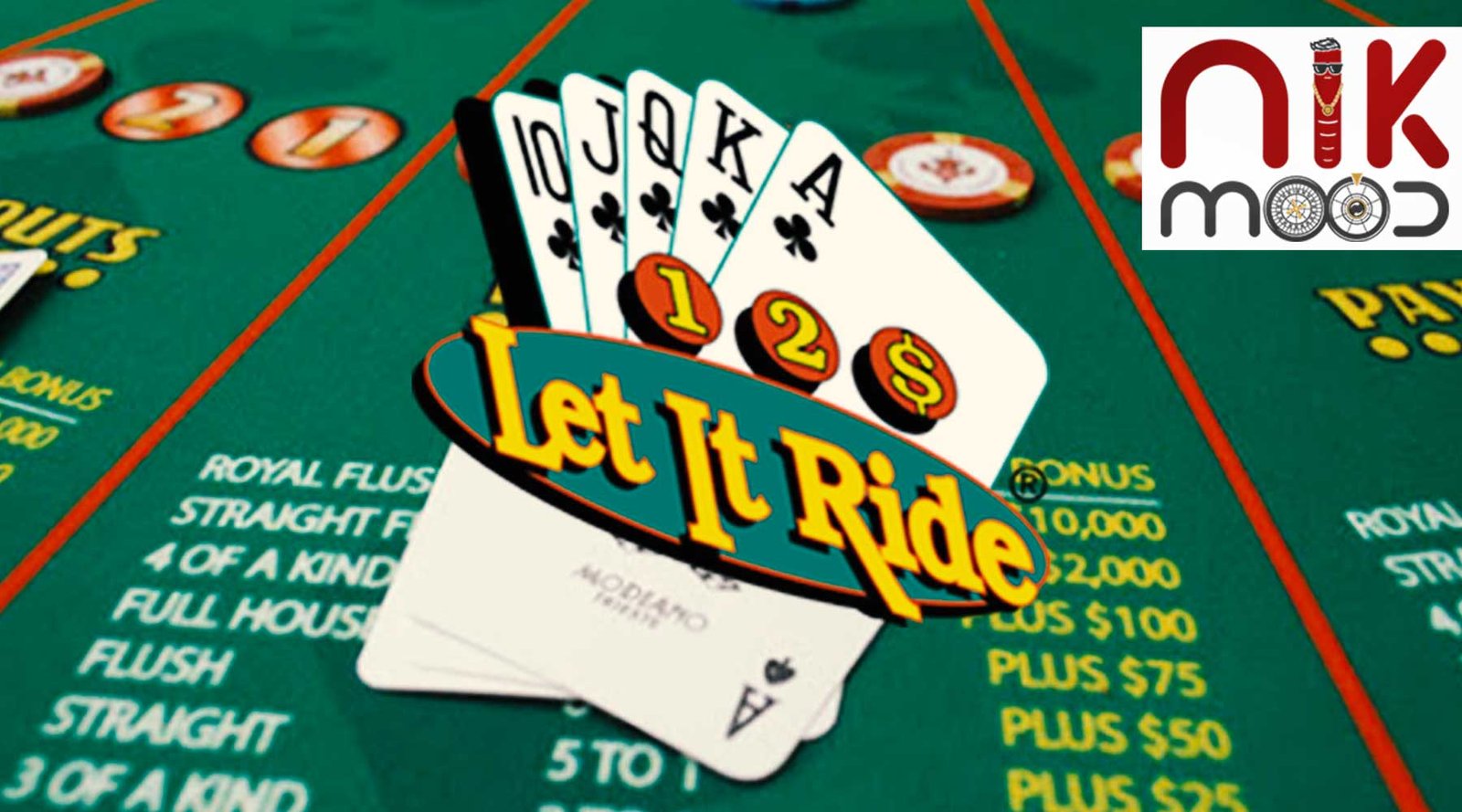 If you have ever played the finest game invented- Poker- you know the thrill of being dealt the hot cards and the rush of working out the best strategy to make your opponents fold'em! The chances are, you also wished to take a bet back as things go south for your hand.
Well, you never can un-bet while playing regular poker, or Texas Hold'em, but interestingly enough, Let It Ride gives you the chance to take your bet back when your luck has turned! The game is based on classic five-card stud poker, allowing players to take back portions of their stakes as the dealer reveals her cards.
Are you ready to go on a ride with me and see whether Let It Ride is a good game? Buckle up and Let It Ride!
Love In The First Ride: Who Played It First?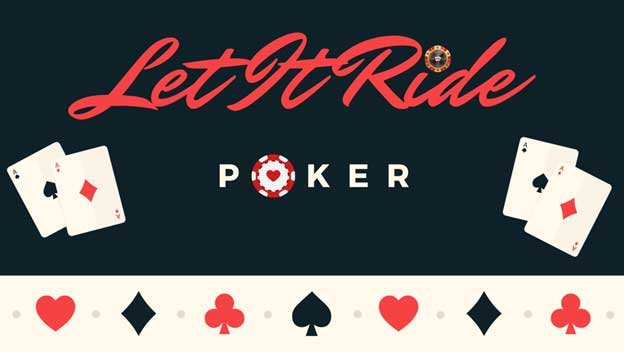 John Breeding is the game's father. He is the founder of Shuffle Master card shuffling machines. John quit his job as a truck driver in 1983 to invent an automatic single-deck card shuffler. Let It Ride was a marketing ploy to promote his device by drawing slot fans to table games. Of course, the trick did work as by 1993, players fell for the Ride, making the game and the shuffler fixtures in casinos because shufflers could shuffle a fresh deck without interrupting the game. Why was it love in the first Ride? Because the game is poker, except you can take your bets back and bet in three circles! This is the only casino game where you hope the dealer has an excellent hand!
Let It Ride Gameplay Basics
As shown in the picture below, Let It Ride is played on a blackjack-style table with the standard 52 deck of cards.
The objective of the game is one of the reasons behind its popularity. You do not play against the dealer or the other players in this game. Your only goal is to make a hand containing a pair of 10s or higher and qualify for one of the payouts written on the table. What if you get a weak hand? Let it go! You are allowed to take back up to two of the three bets you made as the game progresses.
How To Play Let It Ride?
As you have seen in the previous section, the game basics are easy to understand. The card and hand rankings are the same as regular poker and follow the same rules(suits count toward flushes).
You will be given three starting cards, and using two face-up community cards, you will make your five-card poker hand. The higher the value of your hand, the higher the payout.
The following steps will help you better master the basics.
Step 1: Before the dealer deals the cards, you must place three equal mandatory bets in the circles indicated as 1, 2, and $ (as shown in the picture below). It may sound crazy but don't worry because you will be given the chance to take back parts of your bet later during the game. Typically, the minimum betting limit in land-based casinos is $5. At online casinos, you can play for much less.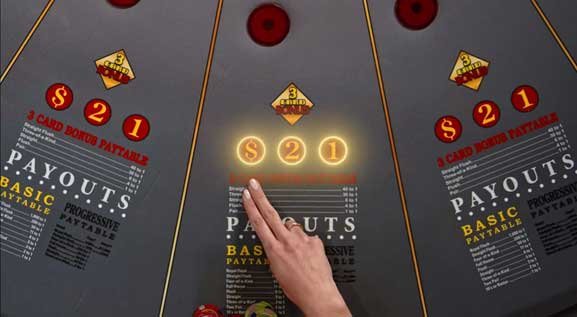 Step 2: If you want to try your luck on the bonus payout, place a $1 bonus bet in the designated area.(Pro tip: Don't do it! You will find out why in a bit.)
Step 3: The dealer starts the game by giving 3 face-down cards to each player. Make sure you don't show your cards to anyone else. Why? Because the guy next to you may hold the card you need to make your hand, for example, flush. So, this would affect your betting — or his.
Step 4: The dealer deals herself 2 face-down community cards.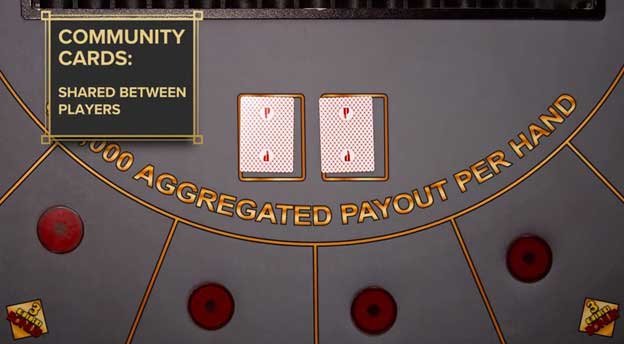 Step 5: You look at your cards and evaluate whether using two unknown community cards, you will have a winning hand or not. If you like your hand, knowing it is a payout-worthy one- a pair of 10s or better-, you will let it ride or keep your first bet. To let it ride, you keep your bet in Circle 1 by placing your cards under that circle.
Step 6: If you are dealt a weak hand, you can take back your bet by scratching your cards on the table. Remember, in land-based casinos, you should not touch your chips. Wait for the dealer to push your money back to you. In online casinos, you just hit "Pull," and your chips will be returned to you.
Step 7: The dealer reveals one of her two face-down community cards.
Step 8: Here, again, you can decide whether to take back your second bet -chips in the Circle 2- or not. If the revealed community card gives you a payout-worthy hand, let it ride. Otherwise, take back your bet just like before.
Step 9: The dealer reveals the second community card. Now, you will be paid out or lost according to the value of your hand.
The Struggle Is Real!
Your main challenge in Let It Ride is to anticipate whether your starting three cards will earn you a win to keep your bets in play or just take them back. Later, in the strategies section, I will teach you some simplified tricks to better decide your Ride!
Let It Ride Best&Worst Case Scenarios
The luckiest scenario is when you are dealt a pair of 10 or better as your starting cards. In this case, you place your cards under the $ Circle, indicating that you will let all three bets ride and won't make any further decisions. But if your hand is getting you nowhere(after the deal or reveal of the first community card), just scratch (or pull) to take back your chips from that circle.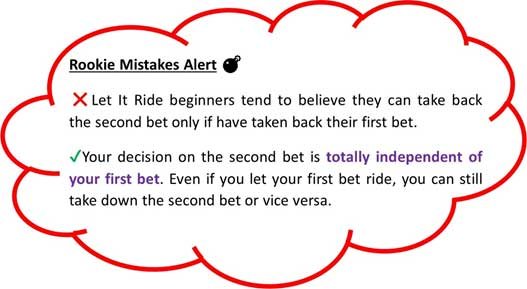 Let It Ride Odds, Payouts, And House Edge Explained
Let it ride has an annoying casino advantage of 3.5%, which is 10x worse than blackjack. But still, there are some simple strategies to cut your losses, which I will discuss in the coming section.
Like Caribbean Stud poker or video poker, the highest hands, like a royal flush, receive the biggest payoffs in this game. To recap, look at the following table for the standard payout schedule of Let It Ride.
Let It Ride Poker Pay Table
Hand
Payout
A pair of 10s or better
1:1
Two pairs
2:1
Three of a kind
3:1
Straight
5:1
Flush
8:1
Full House
11:1
4 Of A Kind
50:1
Straight Flush
200:1
Royal Flush
1000:1
Let It Ride Hand Payout Example
Let's say you are dealt ♣A, ♦K, and a 4♥. It is a 50/50 hand. So, you decide to give up your first bet of $20. Now, the dealer reveals her first community card which is an ♦Ace. All of a sudden, your hand becomes an automatic winner 🎉. So, you will let the second bet ride. The dealer reveals her second community card and it is a ♣K. Boom! It's your lucky day! You end up with two pair, so you will be paid out 2:1 on all your remaining bets except the Circle 1, which you forfeited. So, you will receive $40 for each of your remaining bets.
Let It Ride Strategies Simplified
The sure-win Let It Ride strategy is to best determine whether your starting cards are worth enough to let your bet ride or whether your hand contains only junk and you better take back your chips.
⚠ Disappointment Alert: You can never ever take back your chips placed in the $ Circle regardless of how terrible your hand would be.
When To Let It Ride On The First Bet?
As a rule of thumb, let it ride on your first bet when you hold one of the following scenarios with your three cards:
3 suited cards in a row, except A,2,3 and 2,3,4
Any 3 cards to a Royal Flush
Any hand eligible for payouts (10s or better)
3 cards to a straight flush, containing one gap, with one high card of 10 or higher
3 cards to a straight flush, containing 2 gaps, with 2 cards of 10 or higher
When To Let It Ride On The Second Bet?
As a rule of thumb, let it ride on your second bet when one of the following scenarios applies to the four cards that you hold:
Any four cards to an outside straight( A hand that has 4 consecutive cards but not the first and the last cards. For example, 4,5,6,7, K).
Any hand eligible for payouts (10s or better)
Any four cards to a Royal Flush, Flush, or Straight Flush
Any four high cards (10 or higher) to an inside straight( A hand of 4 cards that require another between the top and the bottom card to complete a straight ).
Of course, winning is possible even with a weak hand. Because the second community card may pair up and pay the whole table. But remember, that type of wishful thinking is the difference between a pro and a rookie player. You are far better off folding a weak hand instead of wishing for the cards to pair up and end up losing your whole bankroll.
Never Ride On A Side Bet; It Is A Trap!
The bonus bet is damn tempting because of promised huge payouts with only a $1 wager. The payouts for this side bet are not standard and vary from casino to casino.
The optimal strategy for placing a Let It Ride bonus bet is simple: DON'T! WHY? Because the bet comes with a 25% house advantage (ugh!).
Of course, you can place a $1 bonus bet once or twice just for fun but don't waste your money and time on something very unlikely to happen.
Best Online Casinos To Play Let It Ride in 2023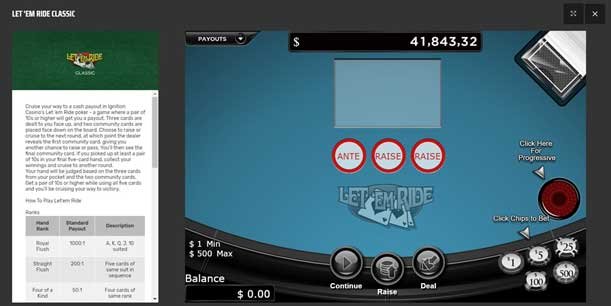 Today, you can Let It Ride in person at over 40 Las Vegas casinos and hundreds more at legit online casinos. However, speaking of game fairness and integrity, recommended top 4 US-friendly online casinos successfully passed all the tests. You will find the best online Let It Ride tables with betting limits of as little as $1. 24/7 customer support, eye-popping bonuses and promotions, user-friendly layouts, crypto gambling, and mobile gaming are some great features of these gambling websites.
Best Online Casinos To Play Let It Ride
Online Casino
Welcome Bonus
Min Betting Limit
Max Betting Limit
Super Slots
Up to $6,000
$1
$500
Betonline
Up to $1,000
$1
$500
Wild Casino
Up TO $5,000
$1
$500
Ignition Casino
Up to $3,000
$1
$500
Wrap-Up On How To Play Let It Ride
See? That wasn't too hard to let it ride, was it? It is a fairly easy game to learn as a beginner, and I have covered everything you need to know to get in on the action having all the aces! Make sure to review the basics, practice enough before sitting on the real money table, and, most importantly, keep it small.
Happy Riding!
Leo - Researcher / Writer
I am a professional poker player and here I will introduce you the best casinos for betting and learn new things about the world of betting.
view Profile