All About Zynga Poker Online 2023
Date:2023-07-07 Category: Games
You may confuse Zynga Poker with another Poker variation, but it is not. It is a product of the Zynga company, whose developed games are played by 10% of the world's population monthly.
#1 USA Online Casino of Dec 2023
Sign Up & Play at Betonline Today!

Zynga Company:
It is one of the leading providers of online social games in the world, founded in 2007. I can guess you have encountered at least one of Zynga's games in your lifetime. The company's name was inspired by the American bulldog "Zinga", thus the dog image in its logo. The company's mission is to connect the world through games. Zynga's games have been downloaded more than four billion times so far.
What is Zynga Poker?
Zynga Poker is an online social game that can be played on Facebook, Android, iPhone, Windows, and some other platforms. It was first introduced to the market in July 2017.
Zynga Poker used to only offer Texas Hold 'em variation of Poker, but it has recently expanded to cover other variations.
Zynga has a portfolio of successful games, including FarmVille, CSR Racing, and Words With Friends, to name a few. Zynga Poker had been the company's favorite kid, contributing to its revenue in a high percentage, but it has lost its popularity to stiff competition lately.
It was the largest poker site with 38 million users in 2011 but slowly lost its market share to new competitors. A major upgrade to the game in 2014 is considered to have led to the declining popularity of Zynga Poker.
Zynga Poker as a social game:
The game was initially designed for Facebook to maintain the social aspect of the game. Players can join their friends and send gifts to them. The game is now supported in most social apps and platforms and has over 50 million downloads in App Store. Over 550 million people have played Zynga Poker since its launch in 2017.
Zynga business model:
Zynga company has a free-to-play business model that allows players to play its games for free. The company's revenue is generated through other means, such as in-game purchases, ads, and partnerships.
How to play Zynga Poker?
Upon entering the game for the first time, you are awarded 2.6 million dollars worth of chips. How generous of the Zynga Poker game, but the minimum stake you can play is 5K$. You can continue to play the game with the free chips you earn throughout the game, and you can also buy chips with real money.
You can join a Texas Hold 'em table, but Omaha Hold 'em and tournaments will be unlocked by leveling up in the game.
Before joining an online table to play with players from all around the world, you are required to check some options. A slider lets you select the stake you want to play in the game. It starts from 5K$/10K$ minimum/maximum table and goes up to 50B$/100B$ table stake. You can earn Trillions of dollars in this game but not cash out a single penny.
You can choose the time a player is given to think about their actions in the game. Fast and Normal are two options available, with the former barely giving you the time to think.
The next option lets you choose the number of players on the table. Five-handed and nine-handed are the two available options.
Chatting during the game:
You can then join the table and compete against other online players. To give you a sense of a real casino, a chatting option lets you choose from a list of already-written common sentences and emoji to communicate. A chat box also allows you to write your own sentences, and they pop up on the table to all players.

Zynga Poker Store:
The game is not played with real money, but that does not mean you do not have to spend a penny. The Zynga Poker store lets you buy chips, golds, and tickets with real money. They buy you time throughout the game, decreasing the effort to level up and unlock new games and tournaments.
Lucky Bonus Slot:
If you are among the majority of people who do not want to splash your hard-earned money on virtual chips, there are some options in the game to take advantage of. For example, a Lucky Bonus slot rewards you with chips and prizes once daily if you hit the right combination. You can also earn chips by watching the videos Zynga Poker wants you to.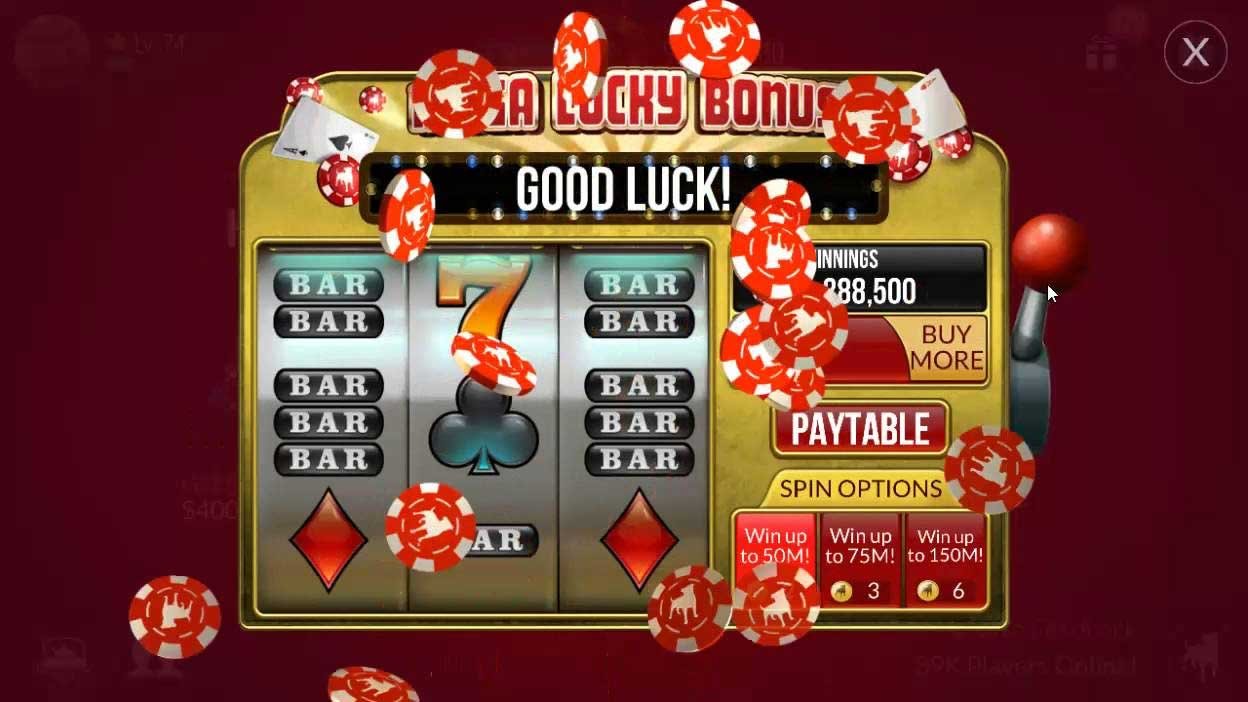 Zynga Poker Account:
Zynga Poker encourages players to sign up for an account to preserve and have no issues when upgrading to a new device. Who wants to lose Trillions of dollars by switching their phones?
Zynga Poker Profile:
Going on a tour of your profile on Zynga Poker, you can find the following options there. The profile lets you change your avatar and have access to all the stats of your game up to that time. The stats show whether you are a passive or aggressive player, fold and raise frequency, hands played and won count, and your win percentage.
It also gives you a count of your collectibles (rings and watches), bonuses (all of them), and achievements like having a record of winning a tournament.
Pass Challenges:
You can choose to pass challenges to unlock special prizes that help you in the game. An example can be betting on 15 hands 5K$/10K$ stakes and up.
Rose's Rewards:
Every chip you bet will earn you XP, which helps you level up in the game. And leveling up unlocks even new prizes like chips and golds.
Zynga Poker ring series:
You can earn special rings by winning tournaments in different locations. You can show off your ring when playing on a table to let everyone knows you are a tournament winner.

Leagues World Champions:
Players can compete with other players on a weekly basis to climb to the top of a division. The best of the best players with high-earning profile competes in the World Champion to be listed among the Top 500 players.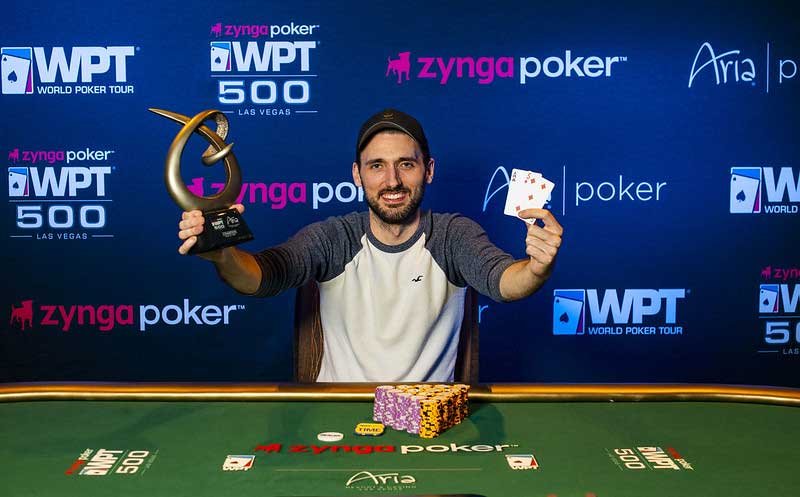 In a nutshell:
If you are a Texas Hold 'em lover and do not want to risk real money, Zynga Poker is the best option to play for free. It is filled with great bonuses and challenges. The most important feature of Zynga Poker is its social aspect which allows interaction and connection through Poker.
Playing Zynga Poker connects you to a community of millions of social game players who share the same interest. Games have always been an excuse for socializing throughout history. There is no better game to play and socialize at the same time like Texas Hold 'em.
Read More:
Is Online Poker Legal in California?
Free Online Poker Games With Fake Money
How To Play Poker Online For Real Money?
Best Poker Sites for US Players Real Money
The Best USA Online Casinos of Dec 2023
Leo - Researcher / Writer
I am a professional poker player and here I will introduce you the best casinos for betting and learn new things about the world of betting.
view Profile